"Mission Accomplished"
was three years ago, Monday 4/30.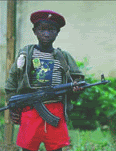 "President Bush said this week to help with gas prices he will temporarily ease environmental regulations. Great. Not only will you not be able to drive, you won't be able to breathe either." --Jay Leno
Thank God & Jesus that George W. Bush doesn't have an oil addiction problem.
- Grant Gerver
Rope. Tree. Jounalist. Some assembly required.
Articles
Stephen Colbert rips Bush at Correspondent's Dinner
Video: Stephen Colbert at Correspondent's Dinner
US Says It Fears Detainee Abuse in Repatriation
US gov. concedes that our troops are the "cause" of terrorism
Iraq War = $439 Billion
18 rich families pay for campaign to kill estate taxes
Israel moving into a "more proactive position"
Bush wants to prosecute reporters as spies
House passes "Iran Freedom Support Act"
How dumb does Big Oil think you are?
American Coup D'Etat
Sen. Ron Wyden's plan to end subsidies of energy companies
I Smell Gas (A subject that makes congressmen stupid.)
US Nuclear Industry Fires Up PR Campaign
White House policy: all gov. TVs have to be tuned to Fox
[
2
]
Thieves in the White House 4/29
furisdead.com
**National Strategy for Victory in Iraq