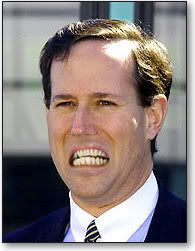 U.S. Web Archive Is Said to Reveal a Nuclear Primer
Last March, the federal government set up a Web site to make public a vast archive of Iraqi documents captured during the war. The Bush administration did so under pressure from Congressional Republicans who had said they hoped to "leverage the Internet" to find new evidence of the prewar dangers posed by Saddam Hussein.

But in recent weeks, the site has posted some documents that weapons experts say are a danger themselves: detailed accounts of Iraq's secret nuclear research before the 1991 Persian Gulf war. The documents, the experts say, constitute a basic guide to building an atom bomb. New York Times

Santorum Helps Release Iraqi Nuclear Secrets
Sen. Rick Santorum of Pennsylvania and Rep. Pete Hoekstra of Michigan, Republicans who lobbied for the data's release, said it was important that the information be made available quickly to the public, including political "blogs."

"We're hoping to unleash the power of the Internet, unleash the power of the blogosphere, to get through these documents and give us a better understanding of what was going on in Iraq before the war," said Hoekstra, chairman of the House of Representatives' Permanent Select Committee on Intelligence.
Santorum Exposed:
Santorum helps release nuclear secrets
Sadly, No!:
Yes Sir, Right Away Mr. Congressman, Sir
Digby:
Children's Crusade
Rick Santorum helps make nuclear secrets public