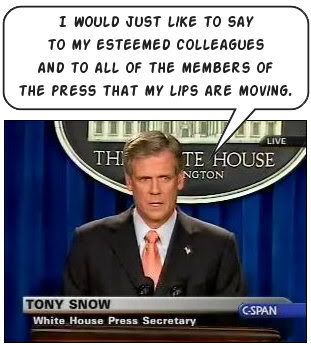 Press Briefing by Tony Snow
Office of the Press Secretary
January 9, 2007
Q Tony, this goes to your previous acknowledgment that the President is aware of public anxiety about the situation in Iraq. What would your guidance be to a public that has seen the President stand under a "Mission Accomplished" banner, proclaim an end to major combat operations, the Vice President talking about the "last throes" -- how should the public go into viewing this speech tomorrow?
MR. SNOW: I think the public ought to just listen to what the President has to say.
You know that the "Mission Accomplished" banner was put up by members of the USS Abraham Lincoln. And the President, on that very speech, said just the opposite, didn't he? He said it was the end of major combat operations, but he did not say it was the end of operations.
Instead, he cautioned people at the time that there would be considerable continued violence in Iraq, and that there would be continued operations for a long period of time. That single episode has been more widely mischaracterized than just about any aspect of the war.
Q We can debate whether the sign should have been there, whether the White House should have not had it there, but the fact is he stood under it and made the speech.
MR. SNOW: You're right, after people had been on a 17-month deployment, and had said "Mission Accomplished" when they're finally able to get back to their loved ones, the President didn't say, take down the sign, it will be bad. Instead what he did is he talked about the mission. And I would direct you back to the speech he gave then, Peter, because the President -- [...]
whitehouse.gov
For that May 1, 2003, Bush stood in front of a large banner that read, "Mission Accomplished." In the opening of his speech, he declared, "Major combat operations in Iraq have ended. In the battle of Iraq, the United States and our allies have prevailed." He called the "battle of Iraq" a "victory." In his radio address shortly after the speech, he boasted, "I delivered good news to the men and women who fought in the cause of freedom: their mission is complete and major combat operations in Iraq have ended."
Additionally, as Bob Woodward reported in October, then-Defense Secretary Donald Rumsfeld had to pressure the White House to take out of the speech the actual phrase "Mission Accomplished," but he couldn't "get the sign down."
In Oct. 2003, then-White House Press Secretary Scott McClellan admitted that the White House — not members of USS Lincoln — had "take[n] care of the production of the banner."
Think Progress
Labels: Tony Snow