The fleecing of the American public begins with corporate assistance and a deviously manipulated economy.
The rich get richer, and the poor inherit the shaft. Jobs are disappearing in America at an alarming rate, but who needs a job when Bush is handing out
President Hoover party favors
?
Just look at the facts. According to the Bureau of Labor Statistics,
1,054,000 new jobs
were created from January 2001 through January 2006. For the economy to keep pace with the growth of the population, we should be adding 150,000 new jobs a month. The figure of 1,054,000 new jobs created is 7,057,000 jobs short of keeping up with population growth. Job growth numbers for
February
,
March
and
April
add 124,000 jobs, so the figure is now 6,979,000 jobs behind population growth.
So why aren't the newspapers talking about this? All of the newspapers [
1
,
2
,
3
] say that April, 2006's downturn in job growth (138,000 new jobs - 150,000 jobs needed to keep up with population = a net loss of 12,000 jobs) is offset by a gain in overall wages. But wages are not keeping with inflation in the first place! Any positive numbers in that regard are only too little too late. [
1
,
2
,
3
]. The media is telling you that the good news is that your wages are dwindling at slower rate than the jobs that are not being created this month (or for the last five years).
It's like they are talking about the relative speed of two ships heading straight for the same iceberg - one ship has slowed a little, and the other has picked up speed. For some reason the media has decided to concentrate on the relative speed of the crafts, and are have forgotten about the looming iceberg completely.
The groupthink machevellian lie that these news stories tell is that the stories are not really about job growth and wages at all, despite their titles and introductory paragraphs. The media is instead concentrating on how these numbers will affect Wall Street, and turns a blind eye to the glaring reality of the number of jobs lost and the impact this will have on the nation. Instead of any real analysis the stories furtively gives you the numbers before spouting hit-and-miss Wall Street euphemisms about interest rates and the Dow Jones industrial average, and makes no attempt to explain how historically awful these numbers are, nor do they give any indication of just how dangerous this situation is for the average worker.
All is not lost, though...Bush has a plan!
$70 Billion worth of additional tax cuts!
How do you improve on an evil plan to soak the poor and pay the rich?
Steal more money!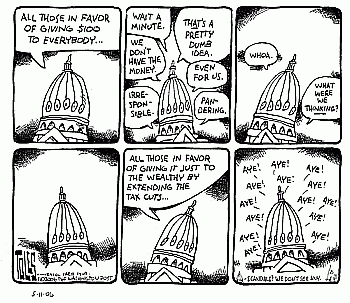 Articles
Bushville - Coming to a city near you!
[
2
] [
3
]
Students protest McCain at New York college
Porter Goss = M.C. Hammer
[
2
] [
3
]
Just because Nazis did, it doesn't make it bad
Selling America
[
2
]
Sow Poverty and despair, Reap Anger and Nationalism
Watergate Hotel subpoenaed in Wilkes/Cunningham Hookergate investigation.
Beer, bikinis, Baghdad?
US survey shows autism very common
Job growth: Weakest since Katrina
New Internet Wiretap Rules: "You can't rule the world!"
[
2