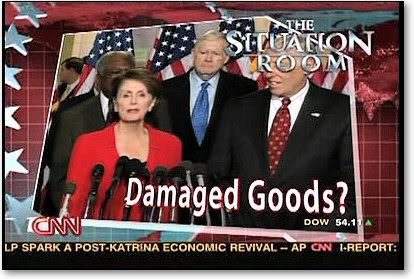 "It's worth noting that the last time the House turned over, in 1994, Tom Delay beat Newt Gingrich's handpicked choice for majority leader and somehow the whole town didn't interpret that as Newtie's waterloo. As a matter of fact, the press was giving him such wet slurpy b***jobs they could hardly come up for air."
Digby
Media Matters has documented previous attacks on Pelosi. For example, on the November 13 edition of MSNBC's Hardball, host Chris Matthews asked political and social commentator Mike Barnicle if Pelosi was "going to castrate Steny Hoyer" if Hoyer was elected House majority leader. On the October 31 edition of Fox News' Hannity & Colmes, Republican pollster Frank Luntz said of Pelosi, "I always use the line for Nancy Pelosi, 'You get one shot at a facelift. If it doesn't work the first time, let it go.' " And on October 26, in his recurring weekly segment on Fox News' Hannity & Colmes, "comedian" and Fox News contributor Dennis Miller called Pelosi "intellectually ... not up to the task" of assuming the House speaker position. Miller further assailed Pelosi as a "nimrod," "a C-minus, D-plus applicant ... who no doubt would have been drummed out of the Mary Kay corps after an initial four-week evaluation period."
Media Matters
New York Times:
Speaker Pelosi Tempts Disaster
MSNBC:
Her Own Worst Enemy
Media Matters:
Situation Room onscreen text: Is Pelosi "Damaged Goods?"
Media Matters:
Even though she hasn't yet taken office, media already questioning Pelosi's suitability as House speaker
Media Matters:
A tale of two covers: Time's '94 postelection cover touted " G.O.P. Stampede," '06 cover asserts "the center is the new place to be"
Media Matters:
Pelosi labeled "Wicked Witch of the West" by Kondracke, "shrew" by Orin-Eilbeck
huffingtonpost.com:
FOX NEWS INTERNAL MEMO: "Be On The Lookout For Any Statements From The Iraqi Insurgents...Thrilled At The Prospect Of A Dem Controlled Congress"...
Labels: Nancy Pelosi