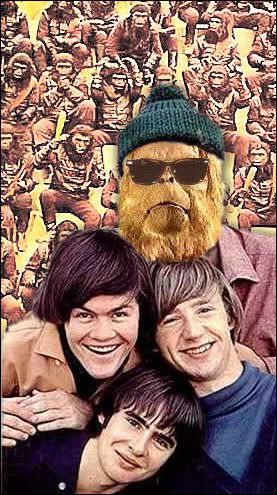 Yeah, I know, I know...Planet of the Apes, Dr. Zaius, "Monkees"...Ha ha ha, very funny. You are truly an original wit.
*sigh*
In addition to the following list of links, you can also go to an index page where all of the YouTube videos are displayed, such as the
songs of the Monkees
,
miscellaneous Monkees bits
, and the occasional
"candid interviews"
they would put on at the end of the show.
This Just Doesn't Seem to Be My DayTomorrows Gonna be another DayValleriWhat Am I Doing Hangin' 'Round?Wind-Up ManWords Words 2You Just May Be the OneYour Auntie GrizeldaZor and ZamMonkees' Crass Commercialism IndexKool Aid TricksZappa with the MonkeesGroovy Button

Davy Jones -

"I'd Do Anything"Kool Air NerfMike As Michale BlessingKoolaid MonkeesBugs Bunny & The Monkees shill Kool-AidDavy Jones learns about soulBenedictine MonkeesDaddy's SongMicky in the Desert Michael Nesmith - "Rio" Stepping Stone Cover Ukulele"Best of the Monkees" by Silver Eagle RecordMonkees for Kellogg's Rice KrispiesHead - the Diner SceneThe Glen Campbell Goodtime Hour

[

1

,

2

]

paperback believer - beatles vs monkeesThe Beatles - Paperback Writer / Rainone complete Monkees' episode (25)"Alias Micky Dolenz"

Part [

1

,

2

,

3

,

4

,

5

,

6

]

Monkee Talk

Monkee Talk [

1

,

2

,

3

,

4

,

5

,

6

,

7

,

8

,

9

,

10

,

11

]