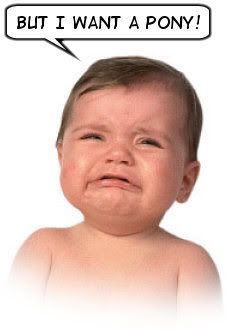 This message is directed to those blogs that are complaining that after five whole months in office, the Democratic congress has not yet impeached president Bush (and I have read several). Not that I don't agree with the
sentiment!
Certainly this is something that we all would like to see, but lets think abut this logically. Impeachment is not a simple thing.
Among other things, "In order to convict the accused, a two-thirds majority of the senators present is required."
(
wikipedia
)
Easy, right? Well, that might seem to be a difficult task seeing as we only have 51 Democratic senators, and
one of them is still very ill.
But lets just say for the sake of argument that passing this in the senate would not be a problem.
Go, Team, Go!
The House of Representatives would have to pass "articles of impeachment" by a simple majority. That should be easy, right? Let's just forget about presenting evidence and which actual investigation this should be based on, considering none of them are complete yet. The idea is to just go sailing full steam ahead!
That done, the case against the president would be tried by the Chief Justice of the United States, or "the Vice President, in his capacity as President of the Senate, or the President pro tempore of the Senate presides." (The "President pro tempore" is the chief presiding officer of the Senate in the absence of the vice president.
purepolitics.com
)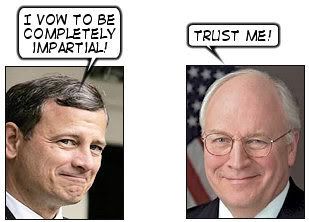 So I put it to those bloggers that think jumping to an impeachment hearing right away is such a good idea. Tell me your plan from this part on, I'm a little unclear about how you are going to convince either of these two guys to go along with this.

So let's review the concept, we should start the ol' impeachment ball rolling without yet having clear and irrefutable evidence by asking for "articles of impeachment" by a simple majority in the house of representatives, so that we can have an impeachment hearing in the senate, where we only have a slim majority and one of those members is ill, to be presided over by Chief Justice John Roberts or Vice President Dick Cheney.

Am I the only one that thinks that we might want to review our strategy on this?

Remember that the Republicans failed to impeach Clinton in the Senate after a huge brouhaha and many months of wasted effort, and they had a larger majority. In the end, they did not get what they wanted, and looked like major idiots for their efforts. Clinton ended up being a figure of sympathy, and had a very positive public approval ratings when he left office. Just because you have a plan, it does not mean that it will work.

I think that it does a disservice to our elected Democratic officials to say that they are not doing everything they can to stop the madness of King George. I don't think the Democrats are just fooling around and wasting time. This is very serious.

What has congress been doing since February?
I wonder how much positive legislation the Republican congress passed last year at this time. I would not sell our guys short so quickly as some. They have only in power since February. I would guess that it is probably not that easy to undo the many years of GOP damage in five months, especially with the Republican congress mucking up the works, and Bush threatening to veto everything.

I think that many in the media often portrays the Democratic congress as weak and ineffectual for a variety of reasons, not the least of which is that the majority of the media is owned by conservatives. Don't listen to them! These are the same people that told you that the war in Iraq was a good idea, and we all know how well that turned out.