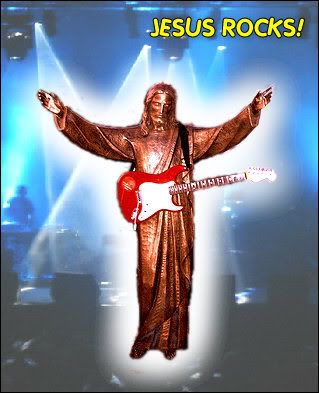 So, do you believe in god?
Let me put it this way, I definitely do believe in god, but probably not
your
god.
When I was young we went to church every Sunday. (That changed later.) I used to think a lot about god as a kid. I read all of the Sunday school literature and the Jesus for kids books my mom bought me, and I came upon own unique opinion of god. Everybody kept saying that god was everywhere, and also that the universe was "everything."
I hit upon the idea that god and the universe were exactly the same thing, but more importantly that all of man's confusion on the subject was based on the idea that we have two different words for the same subject. If there was only one word for god and the universe, then nobody would argue about it.
Think about it. Scientists and philosophers and theologians would all be studying the same thing. All of that stupid dogma would be erased because god is not seperate from you, because you are part of the universe. It would all be one concept. If there are not two different words to differentiate between the two ideas, you can't even argue about it. The idea could not come up in conversation because there would be no words for it.
I told my parents, and they took my words about as seriously as anything I said at that age, which was definitely not very seriously. I figured that the minister at my church would listen though, so I waited in anticipation for the Sunday service.
It was not the usual minister that week, it was an older man. I fidgeted all through the service, and then during the meet-and-greet they had as the people left the service I made my move. I waited patiently until my mother said whatever grown-up stuff she had to say to the minister, and then I blurted out my theory to this poor old guy that looked very tired. He smiled very nicely and shook my hand, and thanked me for coming.
I was livid! I remember my neck burning in anger as we walked towards the car. My theory was valid, I just knew it! But nobody would listen. I remember that my mom thought it was "cute" that I was being all theological.
I find that years later I have tenaciously clung to those same beliefs. I still say that god and the universe are same thing. The argument against this theory is that it is animistic, like a primitive tribe that might say there is a rain god, an earth god and a sun god - and that all of them together make up the components of the Great Spirit. That's animism.
This part of my theory is interesting though - to deny my animistic theory is to deny that the universe exists, and thus you must deny your own existence to prove your own atheistic point. Ha! You nihilist.
Similar troubles arise when you discuss the issue with a Taoist, as their definition is so all encompassing and about as waterproof as that of many animistic faiths. These examples of course do not validate the opinion expressed by many other religions, as clearly many versions of religion define god in such a way that cannot be readily proven, perceived or imagined.
I think I like animism more than the idea of god having an office in an undisclosed location, where he just phones in his orders to a universe that is separate from him. I think that idea is just stupid.
But god does not exist! Science has proven that!
Really? It was my understanding that Hume and all of those Rationalist guys said that it was best to focus on what we knew to be a fact, but always keep an open mind for new facts and theories. I have yet to see a scientific fact the dispelled the notion of god, especially
my
god.
Ha! So I guess you believe in Jesus?!?!
Which one? I certainly like the philosophy of the New Testament. Jesus changed everything. For example, the ancient Greeks felt that each man should attempt to live by a code of conduct that can be expressed as "personal excellence above all others." For the Greeks, the point was to win at any cost, to be the best. If you were not the best, you were subservient to those who were.
Being nice to the guy sitting next you on the bus was not really a big priority to the ancient Greeks. That is what Jesus changed, he brought the concept of altruism to the table.
So, do you think Jesus walked on water and did magic stuff?
Well, if you believe the literature from the period lots of people were doing magic stuff. I have a feeling that those events probably fell into the category of artistic license. I am guessing that a few magic beans helped make the story more interesting. The message that Jesus was talking about had nothing to do with those magic tricks, despite what those speaking-in-tongues and snake-handling guys might tell you.
But you must hate Jesus! You did those anti-Jesus posts!
You are probably talking about these posts: [
1
|
2
|
3
]. I have actually never posted anything bad about Jesus, I have only made jokes about people who pretend to have a relationship with Jesus for fun and profit, or the false notions that people have of Jesus.
I can guess why people would think these posts are anti-Jesus, because in one of them there is an image of Test Tube Jesus having sex with a dinosaur. But that is not Jesus, that is
Test Tube Jesus
. I can see why some would take offense, but the way I looked at it the character is not Jesus, so it is not insulting Jesus. That was kind of the point of the story, that everybody had an idea of what was Jesus is supposed to be, but the only characters that seemed to understand what Jesus really said were Jughead and Betty.
These posts certainly were popular with atheists, though.
So, you are a theist?
Absolutely! But with a difference. Atheists are absolutely sure that there is no god, agnostics are not sure, and I know in my heart and my mind that the concept of god and the universe being different words is just further evidence that people are really, really stupid.
What about an afterlife?
There is so much evidence of an afterlife, and it is all so conflicting, that I can only surmise that whatever happens, it will probably be far stranger than what any living person can possibly imagine.
Do you believe in Heaven or Hell?
Heaven is in her eyes, and Hell is probably a lot more fun than people say it is.
No, I don't believe that any afterlife could possibly be that easy to understand. It's probably a lot more like the film
Beetlejuice
.
But being Christian is bad!
Bad and good are just words, like the word "god". If a wolf eats a bunny, is it good for the wolf or bad for the bunny?
I refuse to hate Christians, or state that their beliefs are stupid. Going to church for many people is a form of social networking. People want to belong to a group. Also, the philosophy is correct, even if it does get mangled by some churches. Atheists are just as likely to say or do stupid, hateful things as Christians in my opinion. People are just kind of crappy in general.
I even call myself a Christian. I like the philosophy. I think that is all Jesus ever really wanted people to know, anyway. The philosophy. He just wanted people to be nice to each other and get along with each other. I don't think he really wanted people to eat him like a snack cracker. That was just a metaphor.
But Christians are so annoying!
No,
people
are annoying. All of them. Trust me on this.
So, do you think god talks to you?
Well, god (IMHO) is the whole universe. Only living things seem to waste their time talking.
What do you think that god is thinking about?
Only living things seem to waste their time
thinking
about stuff. Why does god have to think? I'll bet god never thinks or does anything. He seems to have sort of an open door policy for events and stuff happening, as long as they fit within the general realm of physics. I don't really think that god cares if the new sofa clashes with the drapes, for example.
I find it kind of hard to believe that god has any kind of an agenda, or at least one that I can begin to possibly imagine. I would be really surprised if he has one of those a dayplanner things.
Anyway, according to sociobiology, we are all just large hulking robots doing the bidding of our DNA. All of that stuff that you
think
is "thinking" was programmed into you like a VCR, most of it from millions of years ago. The only thing that might be new are parts of your environment that your ancestors did not have.
Knowing that, are you even sure that
you are indeed thinking?
Or that you even know what thinking is? I sure don't.
You are just reading these words with a mental program (you, your body and your DNA) that has been created over millions of years for the express purpose of propagating others like yourself. All of that other stuff is just window dressing.
But the Spaghetti Monster Guy is the real god!
Not mine.
But there is no future in the belief of god! Science is the answer to man's problems!
Most of the money spent on science goes to the weapons industry and Viagra production. Weapons are not going save mankind, unless we are invaded by really stupid aliens from outer space with even worse weapons than ours. And I kind of doubt that really stupid aliens from outer space are going to be interested in Viagra. They will probably be more interested in eating us.
Philosophy is the only thing that will save mankind. That, and birth control.
I think that if Jesus was alive today, he would preach tolerance. And I think that he would have a big heart about it, he would probably even want us to be tolerant of the Christians.
PIETY
,
n.
Reverence for the Supreme Being, based upon His supposed resemblance to man.
The pig is taught by sermons and epistles
To think the God of Swine has snout and bristles.
Judibras
PIG
,
n.
An animal (Porcus omnivorus) closely allied to the human race by the splendor and vivacity of its appetite, which, however, is inferior in scope, for it sticks at pig.
PIGMY
,
n.
One of a tribe of very small men found by ancient travelers in many parts of the world, but by modern in Central Africa only. The Pigmies are so called to distinguish them from the bulkier Caucasians -- who are Hogmies.
Ambrose Bierce