By all outward appearances,
Dr. Smith's
presidential campaign seems to be going very well. His running mate, Marcia Brady has very helpful in rounding up voters.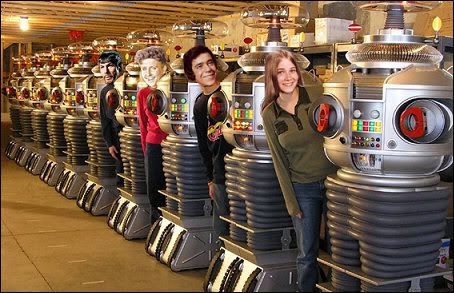 His robot army is a hit with the whole family! Although Alice, the Brady's maid, has stated that she wishes they were more domestic and useful around the house, like
Samurai Frog's Daleks.
"Dr. Smiths robot's don't have any scrubbing bubbles like Daleks do!" Alice said.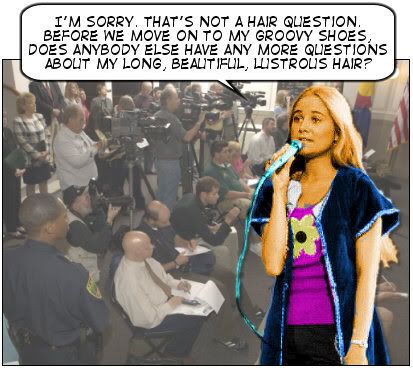 But trouble has been brewing on the campaign trail for Dr. Smith. Marcia Brady has proven to be far more popular with the press, and Dr. Smith has been pushed out of the limelight.
An unnamed source has confided that Marcia intends to take the role of commander in chief for herself. This can only mean there is a rocky road ahead for Dr. Smith's present presidential plans!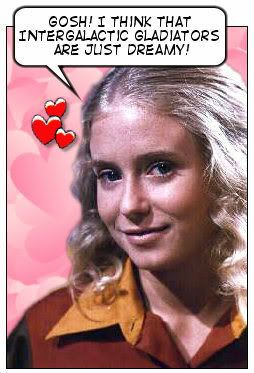 A recent scandal erupted when it was discovered that Jan Brady's Facebook page displayed her desire to see
Jon the Intergalactic Gladiator
as the new president, and not her estranged sister. Against her sister's wishes, Jan shall be working as a summer intern on
Intergalactic Gladiator
campaign.
Jan will add some celebrity status to the Intergalactic Gladiator's campaign. (She is after all, the sister of the most popular girl in school.) Jan has recently accidentally acquired intermittent telekinetic powers as the result of an unfortunate and unforeseen "pot-roast-turned-poltergeist" project she was been working on for her home economics class. Looks like the Intergalactic Gladiator will have his hands full this summer!