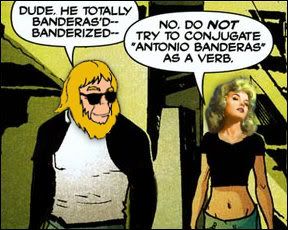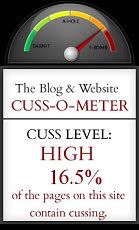 I have noticed that there is an ongoing competition amongst bloggers to get the highest rating on the CUSS-O-METER. This reminds me of a local bar in California that bought and installed a breathometer (alcohol breath tester) in the bar so that patrons could use it to determine if they were too drunk to drive. They quickly removed the device because the patrons were instead using the breathometer to see who could drink the most and blow the highest score!

I almost never use swear words in writing. It is not a matter of my being a prude, more a matter of brevity and trying to find the actual humor of a turn of a phrase. For me it is usually a lot funnier to say something "blue" in a roundabout euphamism or with blatantly silly inuendo. I have nothing against other bloggers using them, and some authors use them is such a creative and forceful way that you could describe their writing as genius.

Unless the swear word is used specifically as a noun, the meaning of a swear word is almost invariably "very." Usually swearing is merely used as emphasis, even when it used as a noun.

Rarely is a swear word really needed to make a statement funny. If a phrase is not very funny without a swear word, was it really very funny in the first place?

Pictures are a lot more fun for me than words, anyways.

A far greater sin than swearing in my opinion is the use of really long paragraphs. It makes the process of reading far more difficult, and appears to the reader that the author did not take them time to properly display their words. Breaking up text into paragraphs is done to make the reading easier to digest visually. It is far easier to follow a story when it is broken up into paragraphs.

(I first wrote about this in the comments of a really great post by Blue Gal on the subject.)
By the way, your CUSS-O-METER rating is also based on the words used by those that comment on your blog, apparently. If you want to increase your rating, you could ask your commenters to cuss more. A low CUSS-O-METER rating could even be the result of a significant amount of comments that have no cussing in them!