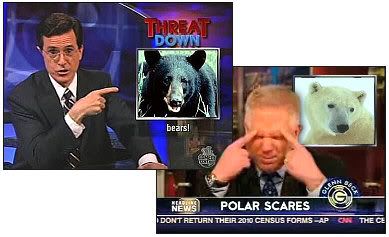 Stephen Colbert:
(On the danger of bears)
"Bears are soulless, godless, rampaging killing machines. For years, ravenous bears have had free reign to use our woods as their personal latrine, protected by their 'endangered' status."
Glenn Beck:
(On the postives of polar bear extinction)
"They eat people! For the love of Pete, they're big, angry bears. They eat people. Not that I say we go out and kill all of them, but I mean, it doesn't seem to be a problem here."
Think Progress