After a brief initial testing phase, I can now formally endorse the
Sno Wovel.
Although it's price is a bit steep, this wonderful device is worth every penny. It cuts the amout of time that you spend shoveling snow by about two thirds, and with far less effort than the traditional snow shovel. It is amazing how much easier it is to use the Sno Wovel than it is to bend and stoop to shovel snow. It is as easy to use uphill as it is downhill! (This is
not
a paid endorsement.)
My one complaint is the assembly of the device. Although I can tell from photos on the internet that the wheel used to come in one part, it now comes in two parts. I am assuming that they now save on shipping because it can now be sent in a smaller box.
Putting the wheel together is not so bad, but the rubber "tire" is a long piece of rubber that wraps around the wheel, with a long slot on it's underside that corresponds to a lip that goes around the outside of the wheel. The "tire" is then supposed to be held in place by this really stupid locking mechanism. Try as I might, I could not get the piece of rubber to fit all the way around the wheel and fit into the really stupid locking mechanism. When I looked at the directions again, I noticed that it said in very small type "70° Fahrenheit".
I found this rather annoying, as I was on the back porch and it was about 40° outside. (I put it together before it snowed.) I then hit upon the brilliant idea of warming it up in the microwave! This actually worked quite well, and the piece of rubber now fit. (My cat got very angry at the odor of freshly cooked burnt rubber in the kitchen and stalked off in disgust, however.)
I thought that assembly of the device was overly time consuming, but once I used it I was completely sold! The Sno Wovel is the only way to clear the driveway.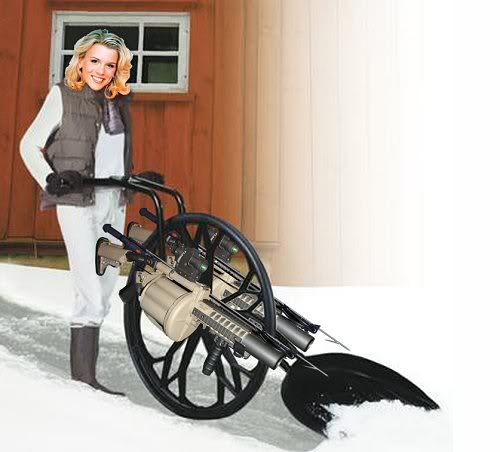 Gemaine Gregarious got the combination speargun and grenade launcher version, of course.