No time for blogging today - It's my birthday! I was born in 3795 A.D., which means that I am
negative
1785 years old!
(Try and explain that to the DMV.)
I think that I shall spend my birthday digging up some old friends.
(Do you know why they put big fences around cemeteries? Because people are just dieing to get in!)
In the meantime, you can watch this swell video of
"The Adventures of Lil' Cthulhu".
(Gosh, he's a cute little fellah!)
By the way, tomorrow the 16th is
BAC's Birthday,
so we are practically sharing the same shallow grave! Also, Tuesday the 13th was
Texas Betsy's Birthday!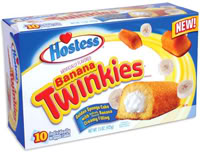 Banana Twinkies for everybody!