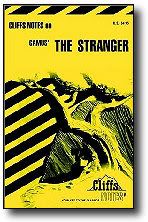 Much is being ballyhooed about President Bush reading "The Stranger" by Albert Camus, but I don't think anybody has pointed out the obvious connection regarding this. The Stranger" is a story about a man who got in trouble for killing an Arab, and didn't really care one way or the other about the Arab or anything else in his life.
It sounds like the
perfect
book for the President to be reading on his vacation.
Albert Camus won the Nobel Prize for his novel The Stranger, which says, in effect, that life is meaningless. But that novel's dust jacket carried a paragraph reporting that Camus died in a car wreck in 1960. It should have added, "Not that it matters."
Dexter Madison
Here is a related poem by Robert Smith (of The Cure) - "
Killing an Arab
"
Standing on the beach with a gun in my hand
Staring at the sky, staring at the sand
Staring down the barrel at the arab on the ground
See his open mouth, but I hear no sound

I can turn and walk away
Or I can fire the gun
Staring at the sky, staring at the sun
Whichever I choose tt amounts to the same
Absolutely nothing

I feel the silver jump, smooth in my hand
Staring at the sea, staring at the sand
Staring at myself, reflected in the eyes
Of the dead man on the beach
The dead man on the beach

I'm alive
I'm dead
I'm the stranger
Killing an arab

An Inside Look: Albert Camus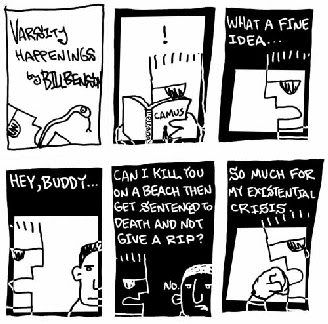 Bush, Camus, and 'The Stranger'
[
2
,
3
,
4
,
5
,
6
,
7
]