Everybody's favorite forgotten supermodel,
Twiggy!
Women can probably thank Twiggy more than just about any other source for today's impossible dieting standards. Twiggy put the
"Ahhh..."
in Anorexia.
Here is a great
video of Twiggy
dancing and modelling in the late 60's. (Video will open in the window below.) Also some videos of Twiggy singing, "
Here I go again
", "
Beautiful Dreams
", and "
In my life
" from the Muppet Show. I also found some swingin' Twiggy photo tributes: [
1
|
2
|
3
|
4
]
If you are going to hang out with Twiggy, You will need to acclimatize yourself to the era. Start with "
The Groovy 60s
", "
The Swinging sixties
", and this handy video on "
60's Fashion
".
If you are going to immerse yourself in the swingin' 60's modeling scene, you can get yourself in the groove with this glamorous photoshoot scene from the film "
Blow-up
". I also found this odd video called "
Twiggy Twiggy
", which is supposed to be the inspiration for Jean Luc Godard´s cult movie
"Breathless"
. Some girls of the 60's, like Edie Sedgwick, kept their figures trim with heavy doses of heroin and pop art! Here are a couple of very short videos of one of Twiggy's risque contemporaries, Edie. [
1
|
2
]
What was the best part of the 60's? Was it Woodstock? Was it the Beatles? Psychedelic drugs? First man on the Moon? The film "Easy Rider"? NO! The best part of the 60's was definitely
MINI-SKIRTS!
But the
next
best thing to mini-Skirts is video clips of
Rowan & Martin's Laugh-In
! The cast included Lily Tomlin, Ruth Buzzi, Judy Carne, Goldie Hawn, Henry Gibson, Joanne Worley, Gary Owens and Alan Sues!
[ 1 | 2 | 3 | 4 | 5 | 6 | 7 | 8 | 9 | 10 ]

Even President Nixon guest starred on Laugh-In!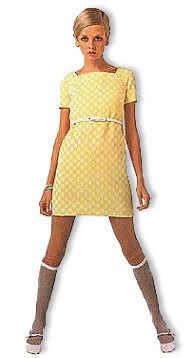 Update: Marius wrote up a great profile, "60s Pop Icon: Twiggy".