I watched the 1999 version of
The Mummy
for the umteenth time. I saw this film in the theaters when it first came out. At the time, I was absolutely sure that I was going to hate it, that it was going to be bloody awful.
I was sure that they were just going to take a crap on the classic
1933 version of the The Mummy with Boris karloff.
The original version of the film was deliciously dark and mysterious. This brief
video clip
[4:59] is an excellent example of the power of that film. Some of the remakes of this film have been
quite childish.
[2:22]
I was actually delightfully surprised by
the 1999 remake.
[2:45]. It followed the original film loosely, but added several new wrinkles and ideas to the story. Not only were the special effects far more technologically advanced, but the story and character development were more compelling and amusing than in the original film. Also, the comedy relief in the film was much funnier.
(Whatever you do, don't say "Rashimulu Kashka!")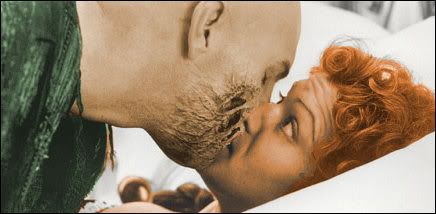 Jeepers! Imhotep needs a breath mint!