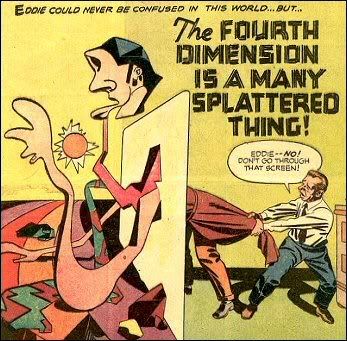 Karla over at
Rabbits, Toyen, and So Forth
has taken some time away from editing her dissertation and medicating her bunnies to present one of the most interesting blog memes I have seen in a while,
"Who Should Do Your Portrait?"
[
1,
2,
3,
4,
5,
6
]
The idea is that you choose the artist that you would most like to have do your portrait. This can be very telling on a personal basis, as your choice not only reflects which artist that you happen to like, but also reveals details about how you would
like to be portrayed
. Leave a comment on her blog about which artist you would choose to portray you!
I decided on comic book artist Jack Kirby, because although Steve Romita draws the best Gwen Stacy and Mary-Jane Watson (and the best Aunt May, for that matter), there can be now doubt that Jack Kirby pens the most awesome super villains of all time.
Nobody can portray Dr. Doom, Galactus or the Silver Surfer better than Jack Kirby. I was looking for a link to an image of one of Kirby's incredible Dr. Doom panels when I came across an early Kirby story,
"The Fourth Dimension is a Many Splattered Thing!"
(Via
Cartoon Snap
.) This story is amazing! He has certainly taken the idea of interdimensional dating to a new level.
For those that don't know, Karla is a very dear and close friend that I've known for over 20 years. she gave me my pet rabbit, the infamous Fierce, Bad Rabbitoid. (I think that she is still a little miffed that I now have a cat.)