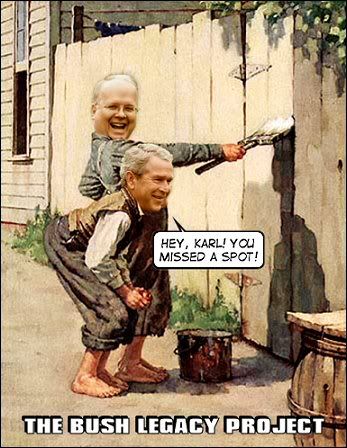 Everyone is giving President Bush a hard time for loafing around during these last few weeks of his administration, but that's characterization of the president is completely unfair! The truth of the matter is that he and his staff have been hard at work, rescuing the Bush Legacy!
Former senior Bush advisers, including Karen Hughes and Karl Rove, have been meeting inside the White House for the "Bush Legacy Project." I watched
Rachel Maddow discuss the matter with Lawrence O'Donnell
on television last night, and I must say that it warmed the peanut butter encrusted cockles of my heart to find out that President Bush has not let the pesky old financial crisis get in the way of the really important work that he has at hand, whitewashing the history of his administration.