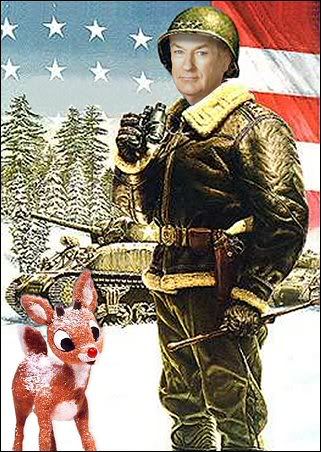 Ack! Our supreme commander in the theater of war known as Christmas has ! five years he stated that, "These antichristian zealots talking Judeo-Christian philosophy today reject that honor. But in reality, they are cowards.
They hide behind the bogus separation of church and state argument to batter any public displays they find offensive. Led by the ACLU and aided by secular judges the antichristian Americans are insulting and denigrating a key part of America."
[
1,
2,
3
]
Does that mean that the War on Christmas is over? Maybe Billo's "Christmas surge" is working! No longer will I be deeply offended by mall employees saying "Happy Holidays" is a listless, lackluster manner. Now they can proudly say "Merry Christmas!" in an equally listless, lackluster manner. Hooray! Santa must have risen from the grave! Christmas is saved!
On a similar note,
here is a video about a Wisconsin man from the Freedom From Religion Coalition who got a permit for a holiday display this year in the state Capitol
that reads:
"At this season of the Winter Solstice may reason prevail. There are no gods, no devils, no angels, no heaven or hell. There is only our natural world. Religion is but myth and superstition that hardens hearts and enslaves minds."
(Via
Oliver Willis.)
The placard is on display next to a Christian Nativity scene and a "holiday tree" that will be on display during the month of December.
I actually applaud the local government for letting the placard be part of the Christmas display, and agreed with the comments made in the video about loving the fact that this country has free speech that allows a display of this nature.
I think that the idiot that put up the sign has concocted one of the worst public relations campaigns in history, however. it's very difficult to sell a product by calling the customer deficient or stupid, and the whole "I'm right, you're wrong" argument is in fact what is most disturbing about the rhetoric of many churches.
And look at the sign - is that
really
your message?
Really?
Even the font is pitiful.
(You are going to deliver your 'earth-shattering' message to the unwashed heathens in Times New Roman? you have got to be kidding!)
It just seems to be sloppy and careless and poorly thought out.
my own views on religion are pretty bizarre,
but I have no problem in general with either atheists or religious folks. However, some atheists fit into a category that is as annoying as any hardcore Evangelical Christian or Hollywood Scientologist.
You can usually tell the difference when they start taking about
CSICOP
[
2
] or the "Amazing" Randi [
1,
2,
3,
4
]. This subset of atheists is as delusional as any religious fanatic.
Despite their claims to the contrary, they do not follow the philosophy of
Empiricism,
and it's very easy to refute their claims. Start with
Dennis Rawlins
and the Mars Effect and work your way up to the present. The "Amazing" Randi is a fraud, and CSICOP's followers are just another form of addled extremism.