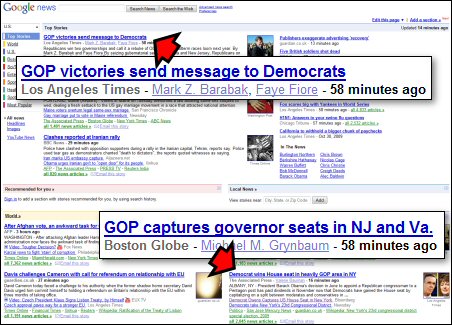 I must say that I disagree with Google News in their choice of using the gubernatorial races as their headline last night. Which one do you think is the real headline?
House special election Conservative party candidate Doug Hoffman was defeated by a Democrat, Bill Owens, in a district that has not been represented by a Democrat since the Civil War. This resounding loss took place despite efforts by Republican party leaders Sarah Palin, Dick Armey, and Glenn Beck to oust Republican candidate Dede Scozzafava and insert Hoffman as their own personal dark horse contender in an attempt to purge moderates from the GOP.
Two Republicans, former state attorney general Bob McDonnell in and Former federal prosecutor Chris Christie won in elections for governor in Virginia and New Jersey. Since 1989, the party winning the White House has always gone on to lose the gubernatorial races in both states the following year.