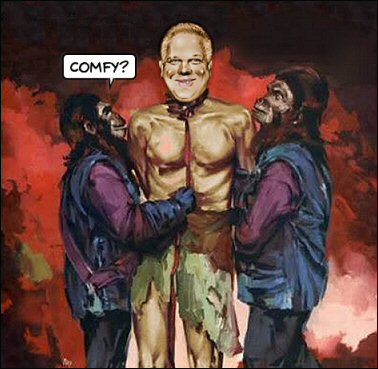 I am deeply offended that Glenn Beck has seen fit to attempt to deride the inevitable course of humanity's destiny to promote his own pathetic political agenda. As we all know, mankind shall not be truly content until they learn to embrace the gentle yoke of simian kindness. This is merely another ridiculous example of a foul human speaking out against his genetic superiors.
Glenn Beck: "Special interest! What planet have I landed on? Did I slip through a wormhole in the middle of the night and this looks like America? It's like the damn 'Planet of the Apes.' Nothing makes sense! The guy who's helped destroy all these pensions, Andy Stern, is now on the financial oversight committee. Is this who we want to take advice from?

"The unions who have collapsed all of the businesses, who have collapsed all of their pensions, they are bankrupting everything they touch, and we go to them and we say, yes, tell me, what should we do? It's like any marital tips from Tiger Woods."