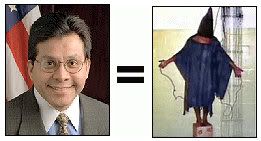 "
Of course not. I remind them: I AM the law!
" --Attorney General Alberto Gonzales, denying to Washington Post reporter Frank Ahrens that his two children ever download music illegally, after his address yesterday to the U.S. Chamber of Commerce on intellectual property theft. [
washingtonpost.com
]
Links
Murder By Sausage
3-Year-Old's Birthday Party Theme: 'NewsHour'
Nun Bun stolen, owner reports
Dell laptop explodes at Japanese conference
Senate deals blow to Net neutrality
GOP candidate's call for labor camp rebuked
Americans' circle of close friends shrinking
Yahoo Health:
Hmmm.
Email to Jack Cafferty
Is Right-Wing America Becoming Fascist?
Timeline Fascism
The War They Wanted, The Lies They Needed