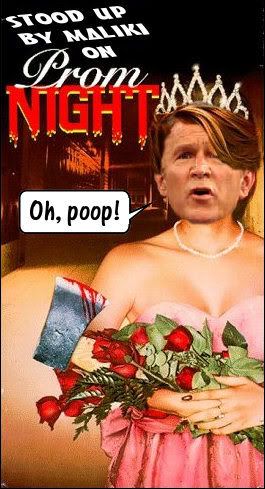 Bush-Maliki meeting postponed
The White House says President Bush's talks with Iraqi Prime Minister al-Maliki have been :"put off until Thursday," Fox News reports.
Think Progress
Prospects for the already-delayed meeting were put into further doubt when al-Maliki canceled a presummit dinner with Bush.
[...]
Even before the meetings began, ABC News had learned the Pentagon was considering essentially writing off Iraq's deadliest province for American forces, pulling U.S. troops out of Anbar, and moving them to fight what may be an even more difficult battle: the fight for Baghdad.
Professor Noah Feldman from New York University helped write the Iraqi constitution.
He said, "As Baghdad goes, so goes the nation."
But the fact that the Pentagon is considering abandoning Anbar shows the "ineffectiveness of the strategy and troop commitment to this point," Feldman said. "We have spent so much blood there."
ABC News
via
AMERICAblog
Face-Saving Update: Class President Bush and Maliki were just going to the prom as friends. It was nothing romantic. (At least that is what they have agreed to tell all of their their friends at school on Monday.)
Bartlett:
"The President is going to have a bilateral and dinner with the King of Jordan. Since the King of Jordan and Prime Minister Maliki had a bilateral themselves, earlier today, everybody believed that negated the purpose for the three of them to meet tonight, together, in a trilateral setting. [...] So it was going to be more of a social meeting anyways. [...] And the President and Prime Minister Maliki will have a very robust and lengthy dialogue tomorrow morning."
Think Progress:
"So the President flew to Jordan to have a "social meeting" with Maliki, which Maliki decided not to attend. There's nothing more to it. That should put all the speculation to rest."
Think Progress
Labels: George Bush, Iraq War, Maliki