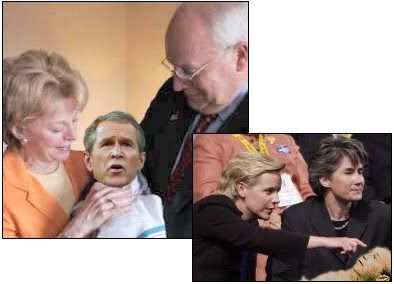 Mary Cheney, U.S. Vice President Dick Cheney's lesbian daughter, said in New York her decision to become pregnant was not politically motivated. "My baby is not a political prop to be used in a debate by people on either side of an issue. Only other lesbian's babies are political props. Not mine. Just ask my dad."
"There is a big difference between my father working in an anti-gay administration that uses same-sex marriage as a wedge issue, and my having a baby with my same-sex partner. It's totally different."
Cheney's comments followed a CNN interview where her father, Dick Cheney, was questioned by Wolf Blitzer about the response of conservative groups to his daughter's pregnancy. The vice president said he felt the question was "over the line, you leftist pinko scumbag."
UPI