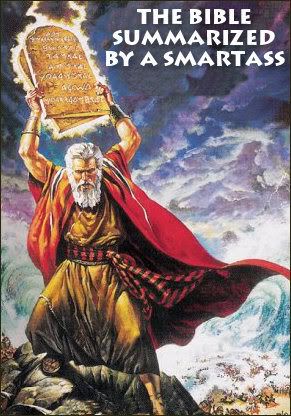 I actually meant to post something about this a long time ago. The rude awakening of midterms reminded me that life is short, and you better post everything to your blog while can, because
the next standardized fill-in-the-bubble test may be your last!
(No matter how you look at it, death by Number 2 Pencil is not a pretty sight. Curse you, Ticonderoga!)
One of my favorite blog features to read is
Samurai Frog's
The Bible Summarized by a Smartass
. one of the best ways to jump start your day is with the Old Testament, as editorialized by
Samurai Frog
over at
Electronic Cerebrectomy
. (Presumably the whole kit and kaboodle will be bound in Corinthian leather and sold on Amazon.com when he finishes up with the New Testament.) Be warned, the Frogster does not pull any punchs as he delivers his Sunday school treats!