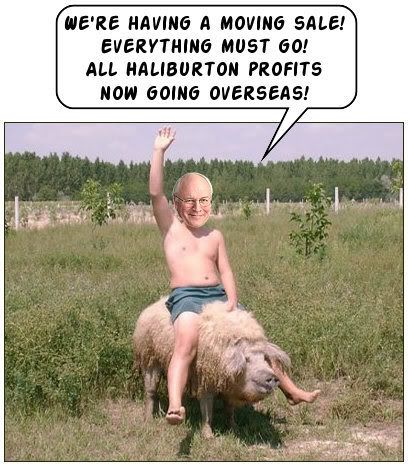 The military contractor accused of wasting taxpayer money on no-bid contracts in Iraq is moving its HQ. Halliburton said Sunday that it would soon move its corporate headquarters from Houston, according to the chief executive, David Lesar.

Lesar said that he would relocate to Dubai from Texas to oversee Halliburton's intensified focus on avoiding prosecution for war crimes and tax evasion in America. "less taxes, less accountabilty, less oversight." Said Lesar. The announcement appears to signal one of the highest-profile moves by a U.S. corporate leader to Dubai, an Arab boomtown where free-market capitalism has been paired with some of the world's most liberal tax, investment and residency laws.

"They'll be avoiding U.S. taxes," Sen. Patrick Leahy, D-N.H., says. "I'm sure they won't stop insisting on taking their profits in cold hard U.S. cash." Federal investigators last month alleged Halliburton was responsible for $2.7 billion of the $10 billion in contractor waste and overcharging in Iraq.