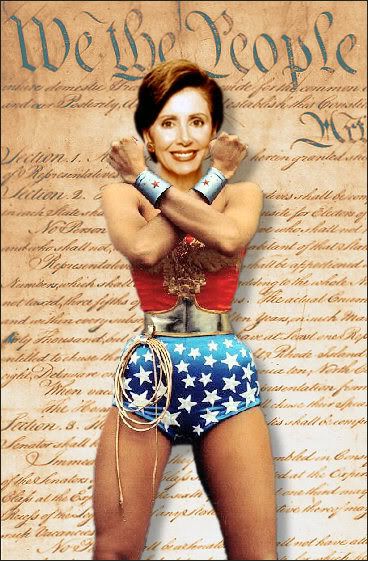 The House fell short of votes to overturn Bush's Iraq veto by a vote of 222-203. I know by outward appearances that the
President's Veto
seems like a loss for Speaker Nancy Pelosi, but the fact that this kind of legislation ever even reached the president's desk would have seemed like a miracle just a few short months ago. The house and the senate are actually beginning to show signs of intelligent life for the first time in years. Now it is just a matter of building support for the Democrat's position.
The bad news is that seven Democrats broke rank and voted to uphold Bush's veto. But Speaker Pelosi also gained seven initially abstaining Democrats, and two Republicans broke rank and voted to override Bush's veto. (
Think Progress
.) So Speaker Pelosi lost seven Democrats, and also gained seven Democrats and two Republicans, a net gain of two more votes for Pelosi.
The sad truth is that the battle against Bush is only going to be won by the dribs and drabs of politicians influenced by their constituents. There is not going to be some television-drama moment when rationality springs from the government's forehead fully grown and dressed in neoprene battle armor, dripping with false portent and just in time for the commercial break.
I am growing a little weary of those that state that not enough is happening fast enough for their tastes. "Why even have an impeachment process if you can't even use it," I read in one comment. The impeachment process is not a walk in the park, and must be carried out according to the Constitution of the United States.
Speaker Pelosi is doing what she can with what she has got. If she doesn't have enough the votes to override an unpopular veto, then she certainly doesn't have enough votes to impeach our sad little president,
yet.
First formal charges must lodged against the president and the vice-president. These have to be examined by an independent prosecutor designated by a House judiciary committee and the Attorney General of the United States. (i.e. The charges have to be so watertight that even a stooge appointed by Attorney General Gonzales has to sign off on them. Think about it.)
Then Speaker Pelosi and the House have to approve the articles it requests that the Senate use to "impeach" the president and the vice-president. Then, and only then, can Harry Reid and the senate try the impeachment. A 2/3 majority of the Senate would then be needed to for a conviction.
ThinkQuest
I'm not saying that it's not going to happen, but it would be a fool's boast to try and run the idea through congress half-cocked and unsupported. What Pelosi is doing right now is building momentum and support, while the president and the White House get more unpopular by the day.
If Speaker Pelosi were to push for impeachment right now, it wouldn't go anywhere and would waste valuable time that is better used to do things like get our men out of Iraq.
Nothing against Dennis Kucinich, but it is very easy to say that he wants impeachment. Without a 2/3rds majority in the senate, he is just whistling a popular tune for the greatest popular effect. Everybody knows it sounds good, but it is a Mary Poppins pie-crust promise, easily made - easily broken.
Any damn fool can shout, "free cookies for everybody!" Rational people figure out what can and cannot be done, determine how to actually deliver on a plan, gather support and then pursue the plan logically. Rational people get the job done. Rational people like Speaker Nancy Pelosi.
Labels: Nancy Pelosi
" title="Bookmark using any bookmark manager!" target="_blank">