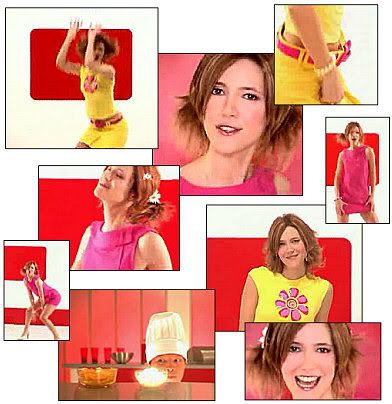 "Banana Split"
, the music video made by my favorite French terrorist,
Sandra Lou
, has been
taken off of YouTube!
It says,
"This video has been removed due to terms of use violation."
Terms of use violation, indeed! Sandra Lou has never violated a "term of use" in her life! (What the heck is a "term of use violation", anyway?) Clearly this is the work of Homeland Security.
Damn you, Michael Chertoff!
Go back to selling duct tape to your mindless GOP drones, and leave Sandra Lou alone!
I wrote about Sandra Lou back in May.
When I found that the
link had gone south
, my heart became an empty, aching void. Life was without meaning, everything turned grey, and I became a gelatinous meatloaf of despair.
I couldn't eat for days.
(Well, I cut down quite a bit. I sort of lost my appetite. I was very upset. I ate smaller portions. OK, already! I ate the same amount, but I didn't enjoy it! Alright? Jeez!)
But then I found a
new link
to the video! Yay!
Here it is!
Everything is once again right with the world... Check out those dance moves - she turns left, she turns right, she does the monkey! She does the swim! She does the robot! She bounces up and down! She is wearing a mini-skirt and go-go boots! Sandra Lou is retro-hot-pink and fluorescent yellow delicious!
"Ooo-la-la!"