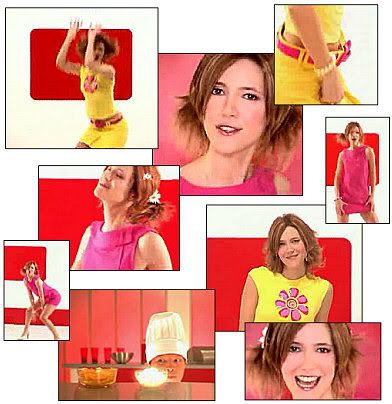 I am so glad that Bill O'Reilly has finally lifted his
economically crippling ban
on the beleaguered French people, because now we can once again enjoy music videos made by French terrorists like
Sandra Lou
! I can't get Sandra Lou's music video, "
Banana Split
" out of my head!
Check out those dance moves - she turns left, she turns right, she does the monkey! She does the swim! She does the robot! She bounces up and down! She is wearing a mini-skirt and go-go boots!
Sandra Lou is retro-hot-pink and fluorescent yellow delicious!
"Ooo-la-la!"
I would sing along, but I don't speak the international language of terrorism, French! I have no idea why I like this song, but it has an infectious quality about. When I first heard it, I just thought it was kind of stupid, but later I felt that it had something that a lot of music is lacking today,
enthusiasm.
Now there are those that find all bubblegum pop disagreeable, and to a large degree I would concur. But there are certain classic groups, like
the Monkees
,
the Partridge Family
and
the Archies
that just seem to get better with age, and the music today just doesn't seem to be able to hold a candle to them. All of these bands are like the Beatles, timeless and unique.

I am not comparing Sandra Lou or "
Banana Split
" to these great old pop groups, but it is certainly a step in the right direction. It is just fun to listen to, and I don't even know what the song is about!
I found this video while I was searching for videos of
the Banana Splits
. I find that months later I still go back to listen to it. It's just so much fun! It is just silly candy-floss music and a bouncing camera barely focusing on primary colors against a white background, but it works! Maybe that is what's wrong with music nowadays, it's just not as much
fun
anymore.
The song is not even Sandra Lou's hit, she is doing a cover of an old
Lio hit
. Lio's version is fun, but Sandra Lou's version steals the show!
So, What is Sandra Lou singing about? I found the lyrics, and it goes like this:
Ça me déplairait pas que tu m'embrasses
NA NA NA
Mais faut saisir ta chance avant qu'elle passe
NA NA NA
Si tu cherches un truc pour briser la glace
BANANA BANANA BANANA

C'est le dessert
Que sert
L'abominable homme des neiges
A l'abominable enfant teenage
Un amour de dessert
BANANA NA NA NA NA BANANA SPLIT

Les cerises confites sont des lipsticks
NA NA NA
Qui laissent des marques rouges sur l'antarctique
NA NA NA
Et pour le faire fondre une tactique
BANANA BANANA BANANA

Baisers givrés sur les montagnes blanches
NA NA NA
On dirait que les choses se déclenchent
NA NA NA
La chantilly s'écroule en avalanche
BANANA BANANA BANANA
So what the heck does that mean? I don't know, I don't speak French! Luckily, Google does:
That would not displease to me that you embrace me
NA NA NA
But is necessary to seize your chance before it passes
NA NA NA
If you seek a trick to break the ice
BANANA BANANA BANANA

It is the dessert
What is useful
The abominable snowman
With the abominable child teenage
A love of dessert
BANANA NA NA NA NA BANANA SPLIT

The crystallized cherries are lipsticks
NA NA NA
Who leave red marks on the Antarctic
NA NA NA
And to dissolve it a tactic
BANANA BANANA BANANA

Kisses frosted on the white mountains
NA NA NA
It would be said that the things start
NA NA NA
Chantilly collapses in avalanche
BANANA BANANA BANANA
Ack! I still don't know what it means! It has something to do with dating, and the Abominable Snowman, and dessert. It is possible that the word Chantilly is used as a double entendre, as it means both a town in France and dessert served with whipped cream, flavored with vanilla. I guess that a lot of the really great bubblegum pop music had crazy sweet-tooth lyrics, like
Sugar Sugar
.