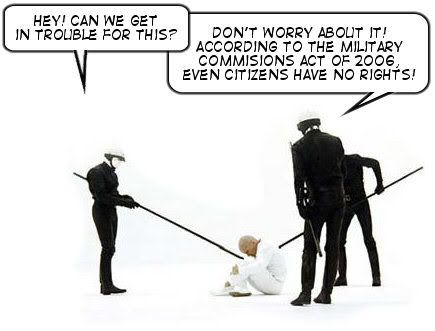 I am not quite sure how I feel about Andrew Meyer, the guy who got tasered at the University of Florida during a Q&A portion of a speech given by Sen. John Kerry. Right off the bat, I am not sure that they should be using tasers on a a college campus, but the fact that the officers were authorized to used them is not the fault of the officers themselves.
Meyer was definitely trying to cause a ruckus, which I kind of like - on the other hand I am not sure that the cops were that out of line, either. It was their job to get him out of the room, just as it was to the protesters job to stay in the room and make as much noise possible.
Maybe they should have just picked him up and carried him out - on the other hand the guy was squirming around pretty good. I would say that he was following the
civil disobedience playbook
pretty well. You can't really blame Meyer or the officers for just playing out the roles that were meted out to them. I think you have to go higher up the food chain to properly assign the blame in this case.
You can decide the whole taser question for yourself.
BAC
over at
Yikes!
has the
the video
.
Badtux
has a post about the
tasering,
and so does
salon.com
. There is even a new taser story today about an
autistic teen that was tasered in California.
For me, the question of whether Meyer should or should not have been tasered is not really the issue that is important. Meyer stepped up to that microphone to say something. The scuffle and the tasering are a distant second in my mind to the fact that Meyer had a message.
The media and even the blogosphere are just concentrating on the taser aspect of the story. I say forget about the taser aspect. Meyer's question is much more important. So I say let's actually acknowledge what he said:
Andrew Meyer:
"I first of all want to thank you for your time. You've spent a lot of time talking to us today and want to thank you for being open and honest. You recommended a book to us earlier, and I wanted to recommend a book to you as well. It's called 'Armed Mad House' by Greg Palast. [
1
,
2
] Kerry said that he had read it."
"And he says you WON the 2004 election. Isn't that amazing?! Isn't that amazing, you won in 2004. In fact, there were multiple reports on the day of the election of disenfranchisement of black voters in Florida and Ohio..."
A woman next to microphone tells him: "Ask you question or..."
Andrew Meyer:
"I'll ask my question, thank you very much I'll ask my question, I'm going to preface it. He's been talking for 2 hours, I think I can have two minutes... I'll ask my question, I'm going to inform people and then I'll ask my question. There are multiple reports of disenfranchisement among black voters on the day of the election in 2004. There was also voting machines, electronic voting machines in Volusia County Florida that counted backwards. So amidst all of these reports, of phony, bogus stuff going on, how could you concede the election on the day? How could you concede the 2004 election on the day? In this book it says that there were 5 million votes that were suppressed for you in the election. Didn't you want to be president?"
"I'm not even done yet. I have two more questions. If you were so against Iran, how come you aren't saying "let's impeach Bush now?" Impeach Bush now before he can invade Iran. Why don't we impeach him? Impeach Bush? Clinton was impeached for what, a blow job? Why don't we impeach Bush? Also, are you a member of the Skull and Bones in college with Bush? Were you in the same secret society as Bush (mic cuts out) were you in Skull and thank you for cutting off my mic..."
nationalledger
Meyer went to a lot of trouble just to say that. Let's at least give his words the same same amount of attention as the taser aspect of the story. I would say that these words are the really important part of the story,
what Meyer said
. Taser stories are becoming a dime a dozen. The fact that the media and even the blogosphere has decided to focus only on the taser aspect of the story I can only see as a failure of communication.
And speaking of failures of communication,
Media Matters
reports on two of the more pathetic aspects of how the how the story has been reported by the right-wing media.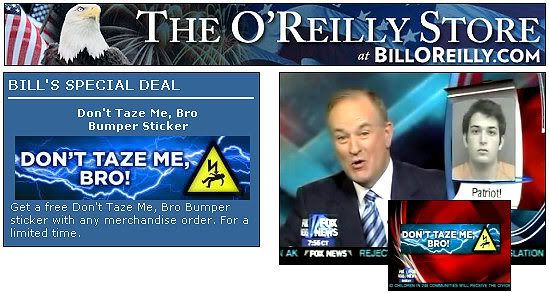 Bill O'Reilly:
"Well, thanks to Andrew, we now have a new promotion. Anyone buying anything on
BillOReilly.com
will receive a
'Don't Taze me, bro!' bumper sticker.
And you know you want one. Everybody wants one."
Media Matters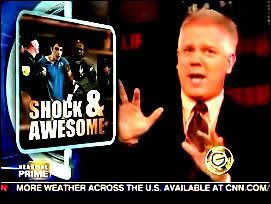 Glenn Beck:
"Now, I'd like to say that my sense of humor has evolved past the point where I don't enjoy watching someone get Tasered. I'd like to say that, but I can't. To me, Taser videos are a little like potato chips. I just can't watch just one."
"I say hit him with another 50,000 volts." [...] "I would have Tasered him just for being stupid enough to listen to John Kerry for two hours, just yammering on."
Media Matters
Glen Beck and Bill O'Reilly never seem to fail to glorify the most sordid and disturbing part of story, and then make it even worse by adding their own sordid and disturbing personalities to it.