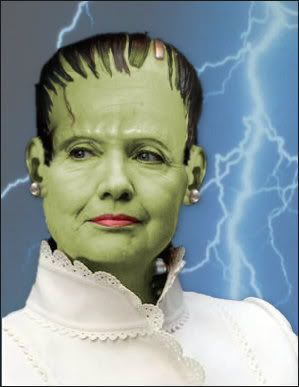 Samantha Power was a foreign affairs advisor to Barack Obama until making negative remarks about Hillary Clinton (including calling her a "monster") in an interview with
The Scotsman
. Power apologized for the remarks and resigned soon after.
In the interview she was quoted as saying: "We fucked up in Ohio. In Ohio, they are obsessed and Hillary is going to town on it, because she knows Ohio's the only place they can win". "She is a monster, too -- that is off the record -- she is stooping to anything...You just look at her and think, 'Ergh.' But if you are poor and she is telling you some story about how Obama is going to take your job away, maybe it will be more effective. The amount of deceit she has put forward is really unattractive." Power apologized for the remarks that night, saying that they "do not reflect my feelings about Sen. Clinton, whose leadership and public service I have long admired." In the wake of reaction to the remarks, she resigned from the campaign the next day.
Wikipedia
Of course Hillary Clinton is not a monster, but if Barack Obama ran his campaign more like hers, it might sound something like this:
"You don't believe that Senator Clinton's a monster?" Kroft asked Sen. Obama.

"Of course not. I mean, that, you know, there is no basis for that. I take her on the basis of what she says. And, you know, there isn't any reason to doubt that," he replied.

"You said you'd take Senator Clinton at his word that she's not... a monster. You don't believe that he's...," Kroft said.

"No. No, there is nothing to base that on. As far as I know," she said.
Clinton's path to the nomination, then, involves the following steps: kneecap an eloquent, inspiring, reform-minded young leader who happens to be the first serious African American presidential candidate (meanwhile cementing her own reputation for Nixonian ruthlessness) and then win a contested convention by persuading party elites to override the results at the polls. The plan may also involve trying to seat the Michigan and Florida delegations, after having explicitly agreed that the results would not count toward delegate totals. Oh, and her campaign has periodically hinted that some of Obama's elected delegates might break off and support her. I don't think she'd be in a position to defeat Hitler's dog in November, let alone a popular war hero.
The New Republic,
via
Oliver Willis