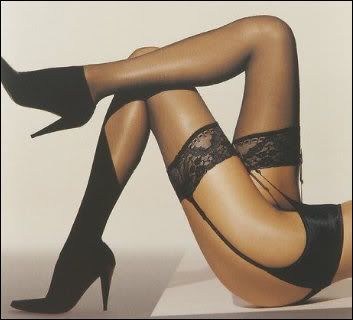 What has gotten
less
wrinkly as the years go by? Nylons! The technology just keep getting better and better! According to
this link,
nylons are 70 years old this year.
I couldn't find a reference for this story, but an older British woman that I worked with told me that when she was a young girl in World War II, she couldn't buy stockings because all of the available nylon and silk was being used for parachutes. She and her friends used to put special "stocking make up" on their legs and then get a friend to draw a "seam" up the back of their legs with an eyebrow pencil to simulate the seams on stockings.
She said that some girls were better at drawing the seam than others, and it was important to have a friend that was good at this. Girls that could draw a good, straight seam enjoyed a certain degree of popularity among their peers because of this ability. (She was a budding young artist at the time, so of course she was very good at it. But of course you can't draw seams on your own legs - anymore than you can give yourself a haircut.)
She said that it was amusing when a girl entered the dance hall with a poorly drawn seam on her legs. All of the other girls would laugh behind a girl's back if she had the misfortune of having a "seam" that wasn't drawn straight. (Kind of like having a piece of toilet paper stuck to your shoe.) There is always room for peer pressure and social one-upmanship - even in wartime!