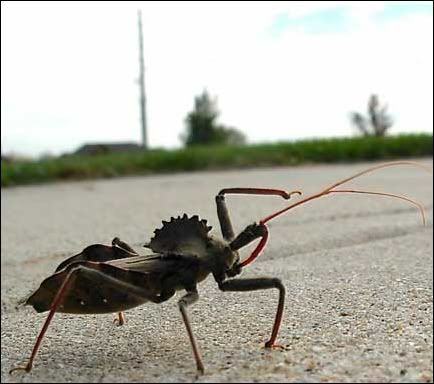 This time of year there are many insects about, and often times they manage to get indoors. At work and at home I have a habit catching these bugs in my hand and walking them to the nearest door or window to let them out, and then I wash my hands.
Sometimes this grosses people out, but it is just easier that way. If you run to get a paper towel the bug will probably get away, and with a paper towel you don't really have the finesse to catch and carry them without possibly squishing them.
The other day at work a large, slow-moving beetle was climbing up my co-worker's desk drawers, and he yelped about it. "There is a big bug on my desk!" I walked over to grab it, and he said, "Be careful! Here - use a piece of paper or something. It might be poisonous!"
I said, "Don't worry! It's a beetle, and beetles aren't poisonous." I reached down and grabbed the slow-moving bug and started to walk for the door, when I felt a strong stinging sensation on my thumb. Ack! I immediately dropped the bug and ran for the break room to wash my hand. My thumb was in pain for about an hour, and was numb for about a day after that.
I looked it up on Google, and it turns out that this particular beetle is called a
"Wheel Bug" (Arilus cristatus)
, because it has a notched crest on it's back that looks kind of like a cogwheel. A Wheel Bug is a kind of
Assassin Bug.
.
The assassin bug has a long skinny beak, and it uses this straw-like mouth to inject toxic saliva into it's victim, to poison them and to break down their tissue - so that it may later suck all of the juices out of their prey like a milkshake. Slurp!
Wheel Bugs are actually a beneficial insect because their nymphs feed on aphids and other small insects, and as adults they feed on many insects that eat crops. The bite is not life threatening but is quite painful and the area may go numb for a week or two.
Watch out for Wheel Bugs! [
1,
2,
3,
4,
5
]