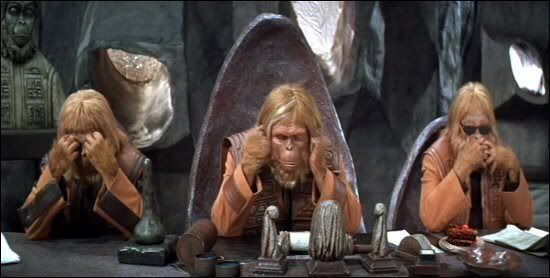 Although I am still hoping that the Obama Administration will come to their senses and appoint me to the still vacant
Surgeon General post,
with the recent news that
David Souter is retiring From the Supreme Court
I would like to formally submit my application for this position as well.
As the Minister of Science and Chief Defender of the Faith of Ape City, I have acted as magistrate in countless legal proceedings, many of which were
directly
related to the disposition of humans and their welfare.
Also, my forensic administrative abilities as Chief Lobotomist of Ape City will most certainly be of exceptional value in judicial matters of the high court, regardless of whether the issues at hand are statutory, regulatory or pontifical.
(And I have it on good authority that 'lobotomy' is actually a code word for 'Activist Judge'!)
(By the way, the chocolate cake on my desk was used as crucial evidence in an important dessert-napping case, and was not merely a delicious afternoon snack.)