This application looks quite interesting: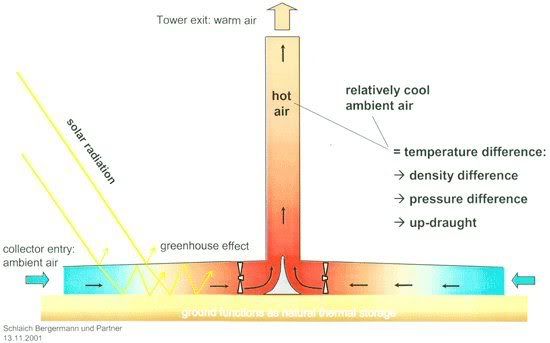 The Technology
The sun's radiation is used to heat a large body of air under an expansive collector zone, which is then forced by the laws of physics (hot air rises) to move as a hot wind through large turbines to generate electricity. A Solar Tower power station will create the conditions to cause hot wind to flow continuously through 32 x 6.25MW pressure staged turbines to generate electricity.
Small Scale Pilot Plant
Solar Tower technology has been tested and proven with a successful small-scale pilot plant constructed in Manzanares Spain. The pilot project was the result of collaboration between the Spanish Government and the German designers, Schlaich Bergermann and Partner.
The plant operated for seven years between 1982 and 1989, and consistently generated 50kW output of green energy.
The pilot plant conclusively proved the concept works and provided data for design modifications to achieve greater commercial and economic benefits associated with an increased scale of economy.
enviromission.com.au
The tower on the finished product will be taller than the Empire State Building. Think of it, clean energy from the movement of hot air... Jeepers! Glenn Beck is worth a fortune!