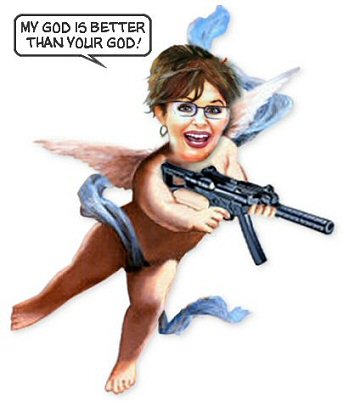 Pastor J. Grant Swank Jr. of the New Hope Church has written an interesting opinion piece for the conservative website
renewamerica.com
[
2,
3,
5,
6
] which compares the religious beliefs of President Barack Obama and former Govenor Sarah Palin, and makes a clear endorsement for one of the two political figures.
Sarah Palin's deity is the God of the Bible. Her personal Savior is Jesus Christ. Her holy writ is the infallible, inerrant Bible. Her hope for eternity is heaven as described in the Word of God. Her hope for the present is God's will activated in her dedication.

Barack Hussein Obama's deity is the god of the Koran — Allah. His personal savior is Allah, though he professes to be a Protestant via his membership in the theologically liberal United Church of Christ (Congregational / UCC). That would make him out to be a witness to Jesus Christ; of course, that is bogus, including his testimony that at an altar at Chicago's Trinity UCC he discovered Christ. If it was Christ, it is not the Christ of the New Testament.

[...]

This cancer sore Obama is the most dangerous occurrence ever in all the Republic's history for it promises us our doom.

Then comes along Sarah Palin. What does she hold out for the populace?

She speaks of common sense politics, a Christian heritage history continuance, reliance upon the God of Scripture, actual hope in prayer and the Holy Spirit's guidance in one's personal faith life.

She comes from a biblical base regarding worship gatherings. It is not theological liberalism as touted in the United Church of Christ, Episcopal Church, Anglican Church, United Church of Canada, Unitarianism, Evangelical (a misnomer) Lutheran Church of America and other anti-Christ labels.

She worships with Christians who seek to live out the Bible, confess to following Christ as personal Redeemer, pray daily, conduct family devotions, believe in miracles, repent of their sins and then yearn to go forth in holiness.

Palin is the antithesis to Obama. Palin represents a biblical way of life. Obama represents a satanic cult.

America is now faced with the choice of Palin or Obama. Of course, in weeks and months to come, someone else may log in to sideline Palin. But at the moment, it is Palin versus Obama.