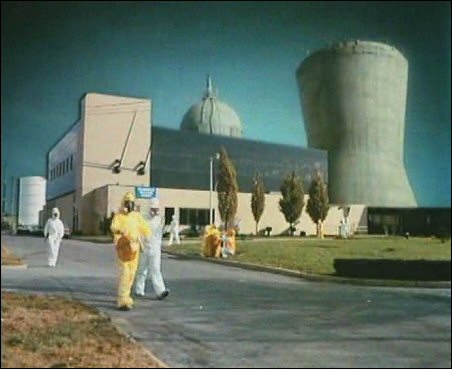 I am quite disappointed in President Obama's recent announcement of a conditional $8.3 billion loan guarantee to build the first new nuclear power plant in the United States in 27 years. [
1,
2
]
Nuclear energy is not even that cheap - according to Wikipedia: "The lifetime cost of new generating capacity in the United States was estimated in 2006 by the U.S. government: wind cost was estimated at $55.80 per MWh, coal at $53.10, natural gas at $52.50 and nuclear at $59.30. However, the 'total overnight cost' for new nuclear was assumed to be $1,984 per kWe — as seen above in Capital Costs, this figure is subject to debate, as much higher cost was found for recent projects. Also,
carbon taxes
and backup power costs were not considered." [
3,
4
]
And therein lies a crucial part of the rub: According to a study done by the Congressional Budget Office, a carbon tax of $45 per metric ton would probably make nuclear power cost competitive when compared to conventional fossil fuel for electricity generation. [
5
] So Cap and Trade actually makes nuclear power seem seem more like a viable solution, if you fudge the number the right way.
It's really kind of silly to even compare costs of nuclear power to any other fuel source. There are numerous graphs and charts that support both the pro and the con of nuclear energy, but an honest accounting of the numbers will always show that nuclear power is only possible through huge sums of money being provided by government subsidy. No bank or industry will even consider investing in nuclear energy without government subsidies. All of the charts and graphs that promote nuclear power and attempt to show it's potential profitability never take into account the necessary government subsidies. The nuclear power industry is just another blatant example of corporate socialism.
What is also never brought up in discussions about nuclear power is the cost of housing deadly radioactive nuclear waste safely for the next 10,000 to 1,000,000 years (depending on the kind of material). Nobody has ever come up with a viable solution to this problem. This rarely discussed cost never quite seems to make it into any equation regarding the overall cost of nuclear power. [
6
]
There are no feasible solutions for long term storage of radioactive waste as of yet, and in my opinion there is an unacceptable potential for catastrophic accidents that turn people into zombie mutant teabaggers with three heads, turn our food supply into something even less edible than junk food, and sterilize (if not kill) humans and animals alike... Not to mention the horrors of giant mutant rodents.
It can be said that the waste from fossil fuel causes more deaths than nuclear waste. The World Nuclear Association provides a comparison of deaths due to accidents among different forms of energy production. In their comparison, "deaths per terawatt-year (TWyr) of electricity produced from 1970 to 1992 are quoted as 885 for hydropower, 342 for coal, 85 for natural gas, and 8 for nuclear". [
7
] But that doesn't take into account the possible deaths that nuclear waste may cause over the next few thousand generations.
I think it bears repeating - mankind has no idea how to safely contain lethal radioactive nuclear waste that will continue to be deadly to life on the planet for the next 10,000 to 1,000,000 years, depending on the kind of material.
The entire span of mankind's recorded history is only roughly 6000 years, so mankind is creating waste that have to housed in some fashion for longer than humans have had the written word. That's a really, really long time. I can't even commit to a subscription to Netflix.
This is a far more irresponsible position than leaving a huge national debt to future generations. We are using a deadly technology that will create poisonous waste that mankind will have to babysit for thousands of years merely to create energy that will only be used for a short time. Future generations will see no benefit from these nuclear power stations, with the possible exception of some cool science fiction movies made about possible nuclear mishaps.
In the end, President Obama's loan guarantee for a new nuclear power plant won't really change the already existing problems regarding nuclear waste. We are still going to have to find a way to house the waste that has already been created in this country and the rest of the world, and the threat of nuclear weapons is actually still far more frightening.
We are already too late to undo the many complications caused by nuclear power, it's already here - and solutions will have to be found to solve the present and future problems caused by nuclear power no matter what. It's not going to go away. [
8
]
The only good thing that might come from all of this is that this new nuclear power station is already over budget, while there are new advances in renewable sources of energy lower their cost every day. [
8
] The looming reality of a new nuclear power station will force the debate to take a harder look at the numbers.