With all of the money that I have made on my OPEC and Haliburton stocks, I have been able to afford to buy some guest workers for Casa de Zaius.
Dr. Goldfoot
was having an
"Everything Must Go"
sale, and I bought the last of his fembots!
I am still working out some of the compatibility issues, and there seems to be some kinks in the software. Imagine! The old goat still codes everything in Windows 3.1!
Perhaps some of you can help me figure out the manual. There are parts of it I can't make head nor tail of! The chapter marked
Trailer
seems to be a broad overview of the project. There is a delightful
opening sequence
that is animated by
Art Clokey
, with a song by
The Supremes
.
Sam & The Apemen
perform the background on number 11, which I thought was actually very helpful.
There is a footnote about Dr. Goldfoot's
Wacky Opera Glasses.
He suckered me into buying 6 pairs of them! I'm saving them for Christmas presents.
The
index
and the
most recent chapter
seems to be a compilation of various upgrades.
I hated to buy my fembot assassin equipment used, but as you can see from
this demonstration
, the Japanese fembot technology is just not up to snuff with Dr. Goldfoot's evil abilities.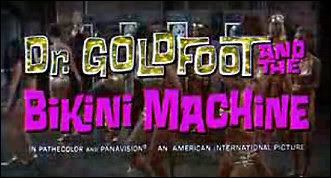 Now if I can just find a discount aquarium store that will sell me a few sharks with lasers attached to their heads...