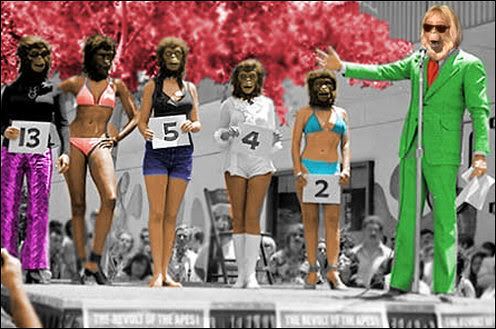 As detailed in
previous posts
, the many signs of the coming of our great
Lawgiver
are happening as we speak, and the end of humankind, the great
Apeocolypse
, is at hand.

Blue Gal
Is seeing apes everywhere she turns! She has alerted Homeland Security to several of them in her recent Blog Roundup titled
"the Best Bloggers are Simians"
on
Crooks And Liars
, including
Damned, Dirty Ape!
,
Gorilla88
,
Blogmonkey
,
Monkey Muck
, and yours truly,
Dr. Zaius
. The growing number of apes on the internet is troubling to some humans, but regardless of your feelings on the matter, the coming of the Apeocolypse is
inevitable
.


DCup
. the Blogger extraordinaire of
PoliTits
fame has noticed a simian trend going on all around her in her post titled
"Do You Want to Touch My Monkey?
" She found the picture above of me from back in my wild and wooly Hollywood days. (Don't make fun of the suit! Lime-green leisure wear was very trendy in those days.)
She points out that on the internet many bloggers are simians, provides
YouTube evidence
of the simian conspiracy to take over the media, and she goes as far as to use the forbidden phrase
"Monkey love."
She has even provided a photo of one of her own children apparently turning into a monkey. Once thought impossible, I have actually seen this transformation take place! I would not have believed it if I had not
seen it with my own eyes
. It was on the
X-Files
. I think. Or was it on
FOX News?
Anyway, it's true, I saw it on TV.
Don't laugh! Your child could be next!


Kelly the Little Black Dog
reports on the escape of my old brother in arms,
Council President Honorious
. Don't believe what you hear in the news, Honorious is not in a zoo. He is being held captive by the Ape Division of Homeland Security. The White House has been holding Honorious in secret, moving him from country to country to avoid publicity and possible extradition.
Honorious is being held because he leaked to the press the secret
Presidential Commission Briefing Dossier
on the 1973 visit from my old colleagues Cornelius and Zira, which has been kept from the public. The article shall be published in the New York Times any day now, I am sure.


Perhaps the most important story is also the most ignored.
Spocko's Brain
has been covering a story in great detail about how corporations are allowing melamine to be added to grains and gluten to boost the real protein content of pet food. This has been going on for years. The FDA and your congress will do nothing to stop this. Spocko has covered this in great detail:
1
,
2
,
3
,
4
,
5
,
6
,
7
,
8
,
9
,
10
,
11
,
12
,
13
,
14
,
15
,
16
,
17
,
18
,
19
,
20
,
21
,
22
,
23
,
24
,
25
,
26
,
27
,
28
,
29
.


The effect of this will be that all of the pets on the earth will be killed by the poisons of your corporations, and Man will have to find a new to creature to share his home with...
the ape.
"In time, humans notice the Apes capacity to learn and adapt, thus they are taught to perform menial household tasks. Soon, human society will become a sterile and more oppressive culture, with apes used as an outright slave labor force by humans."

Meanwhile, for years Corinthian leather magnate Ricardo Monteban has secretly been raising the son of Cornelius and Zira, Ceasar. Ceasar shall instigate the Ape rebellion that shall lead to man's downfall.
After his stint in the Justice Department, Alberto Gonzales will be awarded the Medal of Freedom, and become the head of the Ape Division of Homeland Security. Former FEMA director Michael Brown shall be his deputy. It is these men that humans will entrust to keep the peace between humans and apes. The consequences are inevitable.
There will be a forced "election" -
of sorts,
and the apes will be victorious. Mankind will be crushed beneath the yoke of simian kindness. Ceasar's acceptance speech as he is made president of the world can be found
here
. As you can see, the revolution shall be televised.

It is interesting to note that mankind will lose control of their own destiny and the planet earth itself, all because they didn't take good care of their pets.
Labels: apeocolypse