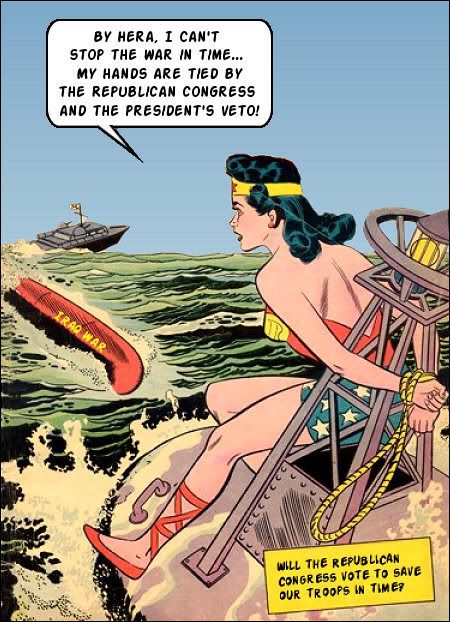 I think that we have all heard the
bad news
that the Democratically led congress is unable to appeal to the conscience of the Republican congress to overcome the president's veto.
Congressional Democrats relented today on their insistence that a war spending measure sought by President Bush also set a date for withdrawing troops from Iraq. The decision to back down, described by senior lawmakers and aides, was a wrenching reversal for some Democrats, who saw their election triumph as a call to force an end to the war.
"
We don't have a veto-proof Congress
," said Senator Harry Reid of Nevada, the majority leader.
New York Times
, via
Think Progress
Speaker Pelosi is still talking tough, but I can see that she is beginning to see that there is little more that she can do to sway the other side of the aisle to see reason.
Speaker Nancy Pelosi (D-CA) confirmed at a press conference late this afternoon that she does not intend to vote for the Iraq deal reached today by the White House and Congress.
"I'm not likely to vote for something that doesn't have a timetable or a goal,"
she said, while still praising the deal as
"a recognition by the administration that a new direction was called for by the American people."
Later, House Appropriations Chairman David Obey (D-WI) insisted that
"we intend to continue that fight"
for an Iraq timeline
"on every vehicle available to us,"
adding that the
"first two vehicles that we expect to join the issue on are the defense appropriations bill in July and the defense supplemental appropriations bill in September."
Think Progress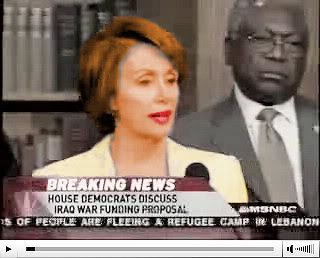 You can already hear the
crybabies
on the internet,
"The Democrats are as bad As the Republicans!" "the Democrats are still cowering in the corner in a fetal position!" "The Deomcrats just caved in!"
Yikes! Maybe things look bad for the moment, but do you really want abandon your only hope because they lost the first round?
If they can't get enough votes to beat the veto, then they just can't get enough votes to beat the veto. It is not "caving in," it is a loss. It is just time for a new tactic. Read Sun Tsu.
The general who advances without coveting fame and retreats without fearing disgrace, whose only thought is to protect his country and do good service for his sovereign, is the jewel of the kingdom.
Sun Tsu
The hardest thing for a soldier to do is to retreat, but sometime they have to. Sometimes it is the only logical tactic.

To a certain degree I can understand the despair that the bloggers are feeling, it feels kind of like somebody just killed Santa Clause - but I am not deterred, nor have I lost faith in Speaker Pelosi or the Democrats in Congress. They can only do as much as they have to work with. If they can't get enough Republicans to figure out the writing on the wall, then they will just have to redouble their efforts.

I play chess with my sister, and I would love to be able to just say "I will take your Queen and get your King, and win the game!" I know from experience that for me to do that, I must take out a couple of her Rooks and Bishops. Meanwhile, she is taking my Rooks and Bishops. Ack! This is hard work! It is never as easy as just saying what you want - you have to actually figure out how to do it, and you have to lose a few pieces just to stay in the game sometimes.