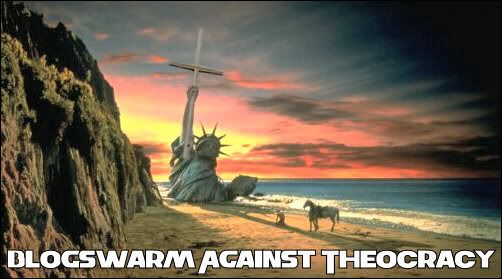 During the week of July 4th,
Blue Gal
is going to have her second
Blogswarm Against Theocracy!
Watch
Blue Gal's
blog for more information.
And remember, on that same weekend, Zaius Nation shall be hosting the July 4th edition of the
Carnival of the Liberals!
The topic for the event will be patriotism, and what it means to you. That topic would seem to be appropriate, considering the date of the event. On the other hand, feel free to digress, wander off topic, and say things that are irrelevant and totally inappropriate.
I always do!
Submissions start on June 21st, so it's time to start blogging!
For those unfamiliar with the Carnival of the Liberals can visit their
website here.
The submission policy is
here.
To the light, bloggers, to the light! And curse the pain.