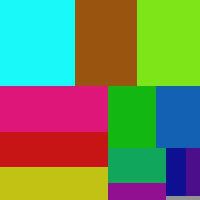 Hopeless Romantic
Normally I don't go in for all of that online test stuff. I find them a bit frightening. The last one I took said that there was a chance I was pregnant! Still, everybody has been posting about this
Personal DNA
thingie, including such notables as
Cap'n Dyke
,
Becca
,
Samurai Frog
and
Freida Bee
.
So with some trepidation I filled out the form and hoped for the best. The test results create a square broken up into unequal parts. When you put your mouse over each section, it is supposed to display a category of the test takers personality and link to an appropriate website to correspond to that category.
"Surely I will get results that are similar to everybody else," I thought to myself. Boy, was I in for a surprise! Unfortunately the lunatics at this
Personal DNA
website think I am some kind of
sex fiend
! Just look at the result!
And of course I have never, ever been to any of the websites that they indicate I frequent. Except maybe one or two of them. Well, perhaps I have been to a few of them, but it was strictly for research purposes!
I am never going to take one of these silly online tests again! Unless maybe it involves superheros. Or food. Or maybe kitties.