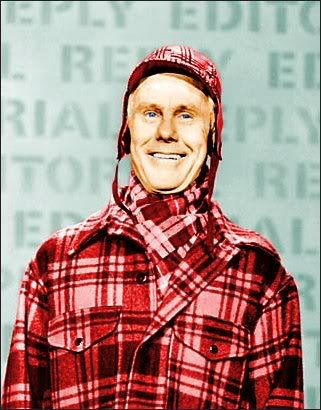 Will somebody please post some videos on YouTube of Johnny Carson performing as the character
Floyd R. Turbo?
We desperately need a mash-up video of Senator John McCain delivering a speech and Floyd R. Turbo giving one of his editorial messages.
I'm not suggesting that the content of McCain's speeches are as ridiculous as Floyd R. Turbo's pre-Limbaugh dittohead ramblings, but both McCain and Carson's character both have a priceless way of gesturing at the wrong time when they speak that is hilarious! I wish I could describe it properly, but it is strictly a visual gag. For the character of Floyd R. Turbo, it went something like this:

Floyd R. Turbo: ...And if you...

(Brief pause)

(Turbo then points to the audience to emphasize the word "you")

(Brief pause)

Floyd R. Turbo: ...Are a true American, then you will agree...
John McCain does the same thing during his speeches repeatedly, except in McCain's case when he gestures or uses body language to emphasize a point at the wrong time, he is not doing it to be funny - he is literally 'pulling a Turbo':
Senator John McCain: ...And let me tell you, my friends...

(Brief pause)

(McCain then raises his arms and gestures to the audience to emphasize the phrase "my friends")

(Brief pause)

Senator John McCain: ...let me give you some straight talk...
I used to watch Johnny Carson with my dad when I was a kid, and my dad and I always thought that the Floyd R. Turbo character was the funniest thing on the show. At the time I didn't really understand that the demographic group that Carson was poking fun at really existed. I just found it funny because the character was such a doofus.

Does anybody have any old video tapes of the Johnny Carson show? Just a brief clip of Floyd R. Turbo gesturing at the inappropriate time alongside a clip of McCain doing the same thing would be hilarious! Unfortunately, it's a sight gag - it just doesn't translate well to text.
By the way, The "R" in Floyd R. Turbo stands for "Arthur."