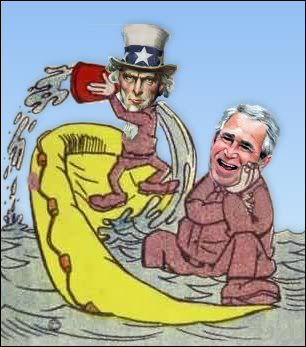 Certain news stories always seem to be released at the end of the week. This story got some attention last Friday:
Two former Bear Stearns hedge fund managers indicted: A criminal indictment of two former Bear Stearns Cos. executives unsealed Thursday relies on a story line that may reemerge in future prosecutions of Wall Street figures in the wake of the sub-prime mortgage meltdown.

The indictment of hedge fund managers Ralph Cioffi and Matthew Tannin alleges that they knew the market for bonds backed by home loans given to people with bad credit was beginning to capsize in early 2007 but hid it from investors in two Bear Stearns hedge funds that held billions of dollars of such securities.
But I have not heard anyone on the news make the connection between this criminal investigation and the other recent news about Bear Stearns. Didn't we just bail these clowns out in March?
The Federal Reserve and the Treasury Department have orchestrated the rescue of Bear Stearns. The defenders of that maneuver argue that if Bear Stearns had failed it would have created a lot of collateral damage, so much collateral damage, that you and I, normal folk who don't know anything about high-falutin' financial instruments like "collateralized debt obligations" would have been engulfed as well. If Bear Stearns had gone bankrupt, Lehman Brothers might have been next.

Some say that if Bear Stearns had failed, the entire banking system was at risk.

Maybe.

It seems awfully hard to know for sure.

But what I do know for sure is that by subsidizing the marriage of Bear Stearns and JP Morgan, the government has removed some of the loss from the profit and loss system. Oh, they tried to make Bear Stearns suffer by demanding a price of $2 a share. But now the deal has been renegotiated — ta-da! — to $10 a share, a mere five-fold readjustment.

What's going on here?