Perhaps the best of all of the Beach Movies, "Beach Blanket Bingo" has many elements in it's favor, including the most awesome
ending credits
known to man.
And Harvey Lembeck's character, Eric Von Zipper, has a larger role in the film than in previous Beach Movies. Von Zipper even got to
sing a song!
Instead of writing a detailed synopsis of the film, I instead submit this handy diagram: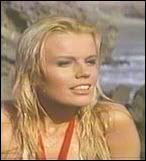 I couldn't fing any video clips (or even any really good photos) of my favorie part of the film, though. In "Beach Blanket Bingo", nitwit surfer Bonehead is saved from drowning by Lorelei, a beautiful mermaid, and he falls in love with her. And not just any mermaid, Lorelei is played by Marta Kristen. (Judy Robinson from "Lost in Space". Curse you, Dr. Smith!)
When Bonehead tells his friends that he has met a mermaid, they don't believe him. Lorelei is probably the only person in the film that treats Bonehead with any respect.
At the same time that Bonehead is having a romance with Lorelei, he is also making time with teen starlet Sugar Cane. At one point in the film, Sugar Kane gets bitten in the leg by Lorelei, presumably as a warning to stay away from Bonehead.
Lorelei tells Bonehead that in the overall scheme of things, their relationship can never really be - and so at the end of the picture Bonehead hooks up with Sugar Kane instead.
You can listen to the
mermaid theme at this link
[
2
]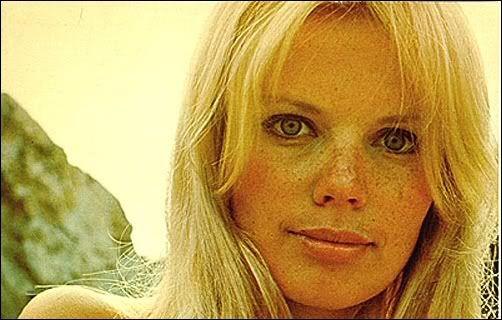 I did find a few panels of the story of Bonehead and his mermaid adventure....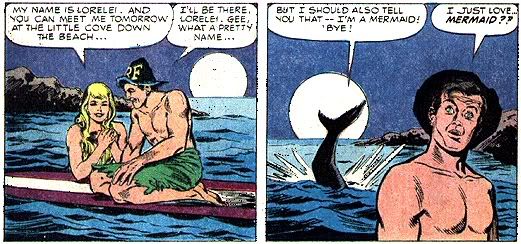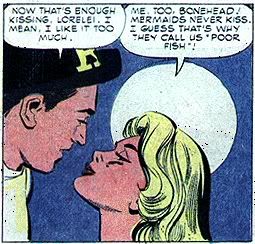 That came from this comic book: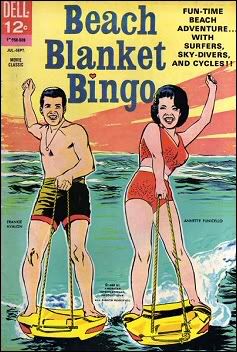 Superman dated a mermaid as well...