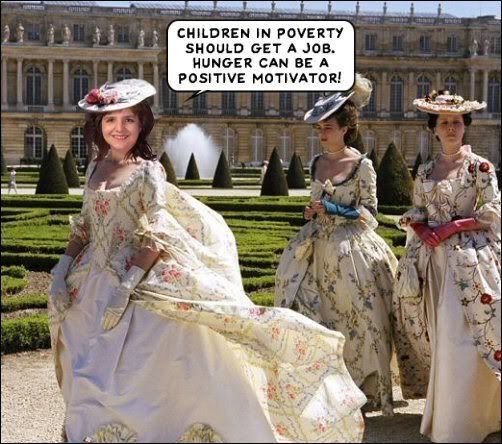 In her
June newsletter
Republican State Representative Cynthia Davis tells you how she really feels about the poor. She states that the summer food program provided by the Missouri Department of Health and Senior Services is a waste of money, the malnourished in Missouri are actually obese, and any problem that might exist is being caused by poor people going out dinner instead of preparing good home cooked meals.
Her articles is delivered in a "point-counterpoint" style. She pulls quotes from the report fromt he Missouri Department of Health and Senior Services, and then delivers her own comments on them. For example, the subtitle of article states:
"Current economic woes make Summer Food Service Program more important than ever. Program provides nutritious meals to young people throughout the state,"
and Rep. Davis counters:
The implication suggests that during a recession, parents don't give their children nutritious food. The reverse may be true. During hard times, many families find it even more important to pull together. Families may economize by choosing to not waste hard earned dollars on potato chips, ice cream, or Twinkies. Perhaps some families will buy more beans and chicken and less sweets.
That's the ticket! If only the lazy underfed would stop eating all of those potato chips, ice cream, and Twinkies!
"Anyone under 18 can be eligible? Can't they get a job during the summer by the time they are 16? Hunger can be a positive motivator. What is wrong with the idea of getting a job so you can get better meals?"

"Tip: If you work for McDonald's, they will feed you for free during your break."
Yes, she really said that. And workers at McDonalds don't get free food, the get a discount - if they can get a job there. And if they are over 16.

Are you hungry, and only 9 or 10 years old? Just wait a few more years! Maybe you can get a job at a fast food restaurant when you are older!

This little nugget was interesting. She starts out saying that probably no one in Missouri is actually hungry, it must be some kind of myth. Then she zig zags into saying that the problem is really obesity, that the malnourished in Misouri must be obese:
"While nobody is disputing the benefits of nutritious food, why the presumption that parents are not providing nutritious food for their children? Even if they are not, who created a new rule that says government must make up for any lack at home? The problem of childhood obesity has been cited as one of the most rapidly growing health problems in America. People who are struggling with lack of food usually do not have an obesity problem. Click here to read about
obesity
."
The link directs you to a video, which I presume you must read as she directs you to do, instead of watch.

Rep. Davis indicates that those lazy unemployed people can just stop eating out:
Most parents put their children first, even ahead of themselves no matter what. If parents are laid off, that doesn't mean they stop feeding their children, at least not any of the parents I know. Laid off parents could adapt by preparing more home cooked meals rather than going out to eat.
One might argue that preparing a home cooked meal on zero dollars can be a bit challenging. The statistics indicate that
One in five children
in Missouri currently live in hunger. I seriously doubt that the problem is being caused by poor people going out dinner instead of preparing home cooked meals. I think they would probably love some home cooked meals.
"The right way to solve this is with more education. If the problem is that parents do not know how to serve nutritious meals, let's help them learn how to do that."
So the answer is clear! Poor people are hungry because they are
stupid and Uneducated.
Food has nothing to do with it!
According to her official
biography,
she formerly owned the
Back to Basics Christian Bookstore,
so she knows all about how Jesus hated lazy poor people and how never gave away free food.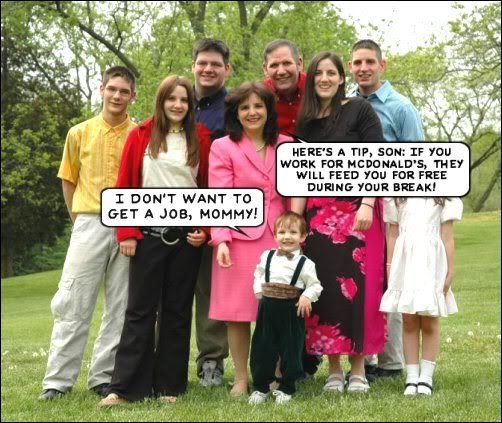 I'm willing to bet that none of
Clown Car
Christian Conservative Cynthia Davis's kids are are malnourished or living in poverty. And if they were, I am sure that she would gratful for any assistance she could get to feed them.
At the end of the article she has a section called
"A Little Bit of Humor"
with a joke called
"Chronic Laziness":
The man told his doctor that he wasn't able to do all the things around the house that he used to do. When the examination was complete, he said, "Now, Doc, I can take it. Tell me in plain English what is wrong with me?"

"Well, in plain English," the doctor replied, "you're just lazy."

"Okay," said the man. "Now give me the medical term so I can tell my wife."