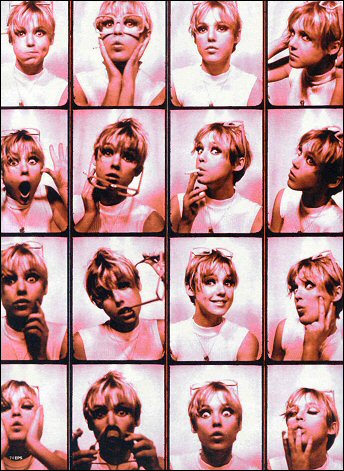 Here are
208 Pictures of Edie Sedgewick
that I have collected. I have a feeling that Edie Sedgwick would probably be very annoying to meet in person, but after learning about her life I can't help but have a certain voyeristic curiosity about her.
I have never really been a big fan of Andy Warhol. I always thought that he was kind of a lame one-joke wonder. Calling a painting of a Campbell's soup can "art" is funny the first time around, but it gets tired pretty quick. I never really learned much about the man until a friend of mine insisted I read the book "Edie" by Jean Stein and George Plimpton. It was a fairly thick hardback, so I was surprised at how quickly I finished it.
It turned out to be one of those books that you can't stop reading. It was fascinating, not only the story but the way that the book was laid out. I learned more about Edie Sedgwick and Andy Warhol than I ever thought that I would want to know.
By the end of the book, you wish there could be some sort of happy ending. It's a very sad and lonely book. There are no uplifting moments or philosophical events that strengthen or embolden the character. It is like watching the Titanic slowly sink into the sunset. There is nothing that can be done about it.
It is a story of a poor little rich girl who got lost in the seedy wonderland of Andy Warhol's Factory in the 60's. The book is about Edie's rise to fame and subsequent downfall into obscurity. I find the story of Edie Sedgwick far more interesting than any of the hype about Andy Warhol.
So many books are about men succeeding against all odds against a seemingly endless sea of troubles, or sometimes you even find books about a woman succeeding against all odds against a seemingly endless sea of troubles. This is a book about an endless sea of troubles and the woman who becomes entirely consumed by them.