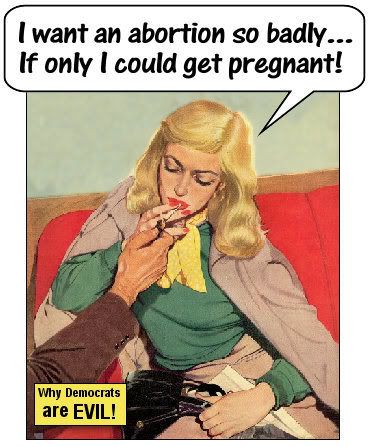 I could not believe what I was reading when came across this article on
infidel753
. It describes a phenomenon that is apparently not unheard of in the medical community. It seems that a significant number of those are vehemently against abortion clinics also make use of their services, and then continue to hold their anti-abortion beliefs.
The author,
Joyce Arthur
, compiled anecdotes from abortion doctors and other clinic staff in the spring of 2000 in North America, Australia, and Europe. The article is a remarkable documentation of this issue.
What I found especially interesting was not so much the hypocrisy of the situation (which is considerable), but the level of double think that any of these individuals would need to generate within themselves to compartmentalize their own conflicting ideas and actions.
In this case the father clearly feels a moral obligation towards his religious beliefs regarding others having an abortion, but does not feel that the same way when he is confronted with the same situation within his own family.
"In 1973, after Roe v. Wade, abortion became legal but had to be performed in a hospital. That of course was changed later. For the first 'legal abortion day' I had scheduled five procedures. While scrubbing between cases, I was accosted by the Chief of the OB/Gyn service. He asked me, 'How many children are you going to kill today?' My response, out of anger, was a familiar vulgar retort. About three months later, this born-again Christian called me to explain that he was against abortion but his daughter was only a junior in high school and was too young to have a baby and he was also afraid that if she did have a baby she would not want to put it up for adoption. I told him he did not need to explain the situation to me. 'All I need to know', I said, 'is that SHE wants an abortion.' Two years later I performed a second abortion on her during her college break. She thanked me and pleaded, 'Please don't tell my dad, he is still anti-abortion.'" (Physician, Washington State)
Joyce Arthur
In this case, a 16 year old girl apparently would often picket a particular abortion clinic with her mother, then had an abortion at the clinic, and then continued to picket the same abortion clinic the day after she had the abortion.
"I have done several abortions on women who have regularly picketed my clinics, including a 16 year old schoolgirl who came back to picket the day after her abortion, about three years ago. During her whole stay at the clinic, we felt that she was not quite right, but there were no real warning bells. She insisted that the abortion was her idea and assured us that all was OK. She went through the procedure very smoothly and was discharged with no problems. A quite routine operation. Next morning she was with her mother and several school mates in front of the clinic with the usual anti posters and chants. It appears that she got the abortion she needed and still displayed the appropriate anti views expected of her by her parents, teachers, and peers." (Physician, Australia)
Joyce Arthur
In case after case, stories were related about individuals who were strongly against abortion, and yet also had abortions.
From a clinic director in a mid-western state: "One of the most remarkable cases was a woman who came [from another part of the state] and said she was the Right-to-Life president in her county. 'But,' she said, she 'had become pregnant and had to have an abortion.'"
From a counselor in Virginia: "[The patient] was disturbed and upset and insisted she couldn't carry the pregnancy to term. She opposed abortion -- and in fact had picketed this very clinic -- [but] felt the abortion was something she had to do."
Joyce Arthur