I am very upset! The BBC home-decorating television program
Changing Rooms
is going to have a special episode set in Ape City, and they didn't choose me to be one of the guests! I can understand why they chose Zira and Cornelius, but why in heavens name would the pick General Ursus! I mean, the man has the design sense of a... Well, a gorilla!
This is really an affront to an cultured and cultivated ape like myself. Perhaps they thought that my excellent simian design sense would show them up. That's probably it. They are afraid that old Zaius would show them up! That must be the explanation.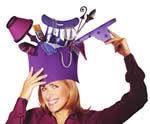 I'm going to try and crash the set to see if I can meet
Carol Smillie
. Yes, I know she's married! I just want to get her autograph, and have a bit of a chat with her. Her Scottish brough is delightful! (No, a "brough" is not a kind of food, Chairman Honorius. Just be quiet.)
There is one good thing about this turn of events. At least I won't have to deal with that fop
Laurence Llewelyn-Bowen
. Ouch! I think the only reason they have that man on the show is as comic relief.