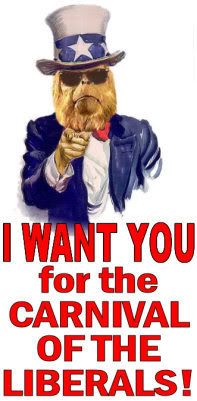 I shall be hosting the July 4th edition of the
Carnival of the Liberals!
It is a great honor that I probably don't deserve - but I have them fooled thus far, so I just might get away with it. Those unfamiliar with this online periodical can visit their
website here
. The submission policy is
here
, and you can submit your posts to the
Zaius Nation July 4th Carnival of the Liberals
here
starting tommorow, June 21st.
The topic for the event will be patriotism, and what it means to you. That topic would seem to be appropriate, considering the date of the event. On the other hand, feel free to digress, wander off topic, and say things that are irrelevant and totally inappropriate.
I always do!
Submissions start on June 21st, so it's time to start blogging!
Perhaps we could explain to the world that patriotism does not mean to blindly follow irrational leaders and ridiculous policies, but to follow your heart about what you know is best for the country as a whole. Patriotism does not mean hanging a magnetic American flag on your refrigerator, nor does it have anything to do with hating your fellow man.
Of course, this topic is broad enought that you could conceivably write about why you love cooking, comic books or blogging, and then relate it to patriotism.
Bora Zivkovic of
"A Blog Around The Clock"
has written two articles of interest on the subject, a
definition of a Blog Carnival
, and
"Blog Carnivals And The Future Of Journalism"
.
To the light, bloggers, to the light! And curse the pain.